British woman fights back in appeal after judge rules against her for saying men can't be women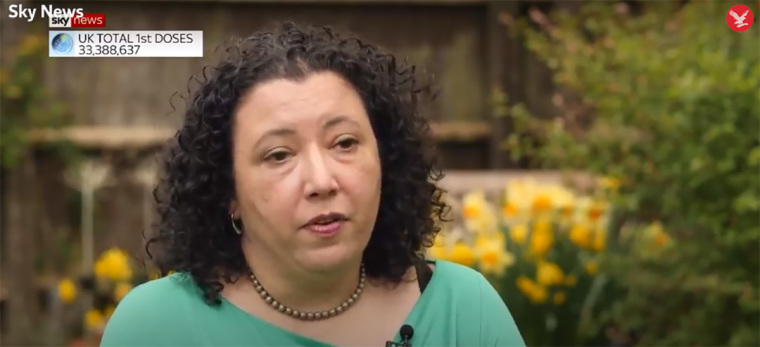 A British woman who was terminated from her job after expressing that men cannot become women is appealing her case after a judge ruled against her, stating that her views are "unworthy of respect" in a democracy.

Tax researcher Maya Forstater was ousted from her job at the London office of the Centre for Global Development in 2019 for saying in an online exchange that men who identify as transgender "cannot change into women."

Forstater had also referred to convicted rapist Karen White — a biological male formerly known as Stephen Wood who was transferred to a women's prison where he went on to assault female inmates — as a "man." She contested her termination in an employment tribunal after being accused of "offensive and exclusionary" language. 
In December 2019, Judge James Tayler ruled against Forstater, stating that she was "absolutist in her view of sex and it is a core component of her belief that she will refer to a person by the sex she considered appropriate even if it violates their dignity and/or creates an intimidating, hostile, degrading, humiliating or offensive environment. The approach is not worthy of respect in a democratic society."

Forstater, whose situation elicited support worldwide, most notably from Harry Potter series author J.K. Rowling, promised at the time that she would challenge the ruling and has followed through, writing an essay in Medium Monday that the implications of her case are profound. Supporters of her court battle have contributed $159,860 (£150,000) through crowdfunding initiatives, averaging $37 (£27) per donation, she noted.
"What is at stake is the ability to have open debate, and the integrity and effectiveness of organizations that enable democracy and an open society," Forstater wrote, explaining that bringing a test case before a relevant judicial body has cost her two years of her life, her reputation, and her and her family's peace-of-mind.
In a 50-page outline of the case that will be presented to the Employment Appeal Tribunal on Tuesday and Wednesday, Forstater's attorneys expressed their astonishment at Tayler's December 2019 ruling. 
"The label 'Orwellian' is sometimes applied too glibly, but here it is warranted. The Tribunal's approach is reminiscent of the Ministry of Truth's Newspeak: words themselves are to have their 'undesirable meanings purged out of them' along with the associated ideas, so that 'a heretical thought… should be literally unthinkable at least so far as thought is dependent upon words,'" they attorneys wrote. 
Her lawyers also asked: "Should anyone who holds such a belief be 'required' in all circumstances to suppress its expression for fear of causing hurt or offence [sic] to trans people, and instead be 'required' to use the language of sex and gender in a way that is contrary to that belief, on pain of dismissal or discrimination at work for which the law will afford no remedy?"
Forstater said in her Monday essay that she hopes a positive result emerges from her appeal, namely, protecting the ability to express unpopular beliefs. Yet a favorable ruling will not be enough, as people must be brave in their respective spheres since most discrimination cases don't wind up in court, she said. 
"The chilling effect on people's careers of expressing unpopular thoughts is most often not felt through the formal mechanisms of disciplinary processes and P45s [UK reference code for tax form regarding details of employees leaving work], but through social shunning, economic and social doors closed, careers damaged in ways too subtle to bring to court," Forstater explained.

Her attorneys concluded their findings by noting the workplace discrimination protections especially matter for individuals that are otherwise vulnerable to mistreatment or suppression while on the job. Given the contemporary political phenomenon of "cancel culture," the legal protection for the characteristics of religion and belief for individuals who hold and express unpopular viewpoints are "especially important."

"Without it, such people face discipline or dismissal simply because their employers disagree with, or do not wish to be associated with, beliefs which dissent from prevailing orthodoxy – or at least from that which prevails in the section of society which shouts loudest on Twitter or otherwise carries most influence with the employer."
The Equality and Human Rights Commission, a government body in England and Wales established by the Equality Act 2006 that is charged with promotion and enforcement of equality and non-discrimination laws, has sided with Forstater. 
The EHRC issued a 10-page outline arguing that Tayler's ruling at the Employment Tribunal had taken the wrong approach to the law. In reaching the conclusion that it did, the tribunal "made a value judgment as to the worth of the Claimant's belief and its validity," the agency said. 
Speaking to the view that biological sex is an immutable trait that is recognized as a protected belief in a religious context, such as when a marriage is solemnized, the EHRC stressed that there "can be no justifiable basis in law for distinguishing between religious or philosophical belief."