Woman Walks Around Moscow With Child's Severed Head, Shouts 'Allahu Akbar, I Am a Terrorist'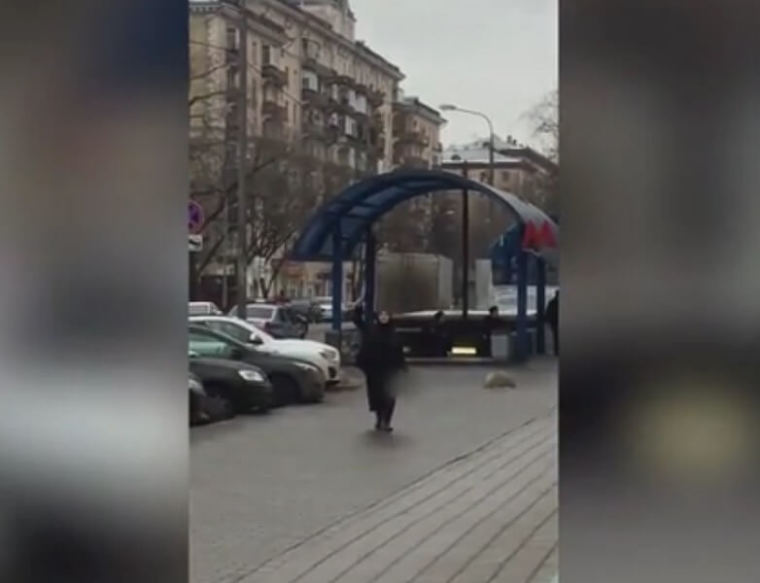 Police in Moscow have reportedly arrested a hijab-wearing woman who was found carrying around the severed head of a child whom she is believed to have killed. Video footage apparently depicts the woman shouting phrases like "Allahu Akbar" (God is great) and "I am a terrorist."
BBC News said the woman is believed to have been the nanny of the child that she beheaded, before setting fire to the apartment of its parents.
CCTV video footage shows the woman walking around a metro station with the severed head in her hands, before a police officer wrestles her down to the ground.
The Moscow Investigative Committee has provided information about the case, noting that the remains of the child, believed to be 3 or 4-years-old, were found at the charred flat on Narodnoye Opolcheniye Street in northwestern Moscow.
"According to preliminary information, the child's nanny, a citizen of one of the Central Asian states born in 1977, waited for the parents and elder child to leave the flat and then, for reasons not established, murdered the infant, set fire to the flat and left the scene," the committee said.
Amateur video footage posted online, which the MailOnline shared, shows the woman walking around the metro station shouting "Allahu Akbar."
"I am a terrorist," she also says. "I am your death."
Russian journalist Polina Nikolskaya, who witnessed the scene, told Reuters: "I was on my way to the metro station from home. She was standing near the metro entrance and caught my attention because she was screaming Allahu Akbar. I saw that she had a bloodied head in her arms but I thought it was not real. People in the crowd said it was real."
Russian media has reportedly identified the suspect as 38-year-old Gyulchehra Bobokulova from Uzbekistan.
Local reports have also claimed that she told police she killed the child, a little girl, because of her own husband's infidelity.
Investigators are saying that the babysitter appears to have planned the attack, as she waited until she was alone with the child in the apartment before carrying out the murder and starting a fire.
"She waited until the parents with the elder child left the flat, then for unknown reason she killed the child, set fire to the apartment and left the scene," a source in the Investigative committee told TASS.
"She was detained at the metro station Oktyabrskoe Pole."
The girl's mother was reportedly rushed to hospital in an unconscious condition after learning of her daughter's death. The parents have told police that the nanny had been working for them for 18 months.
The suspect, who had a valid residency permit for Russia but no work permit, has been placed in psychiatric care to determine whether she is capable of understanding her actions.
Russian police have said they are not treating the incident as terrorism.