'Woodlawn': Racially Torn Football Team Finds Unity in Jesus Christ
NEW YORK — Actor Kevin Downes, known for his roles in Christian films "Courageous," "Moms Night Out" and "Faith of Our Fathers" serves as a producer on the football movie "Woodlawn," which tells the true story of a high school football team in racially torn 1970s Alabama uniting under Jesus Christ.
At the height of desegregation, the Birmingham, Alabama, high school team is plagued with infighting, unfair treatment of black players and a lack of unity until Hank, a sports chaplain played by "Rudy's" Sean Astin, delivers a powerful message that turns Woodlawn High School and the entire town upside down, according to Downes, who spoke about the film with CP Voice on Tuesday.
"Woodlawn is a really special story that the Erwin brothers [directors] grew up with. Their dad actually is one of the key components in the film. [He is the] character Hank. He's a sports chaplain that ends up at this racially torn, last to integrate high school in Birmingham, Alabama, and preaches a message that was just really timely that this team needed to hear," said Downes.
"They were ready to hear it and made a decision to change because they were sick and tired of the fighting and the hate, and they wanted to unify as a team and learn how to love each other. And all of a sudden they started winning football games. It led to the largest high school football game ever played in the history of the state of Alabama. Over 42,000 people. It came together all in the name of one theme and that was 'One Way.' So they gave all the credit to God whether win or lose because there was only One Way," added Downes.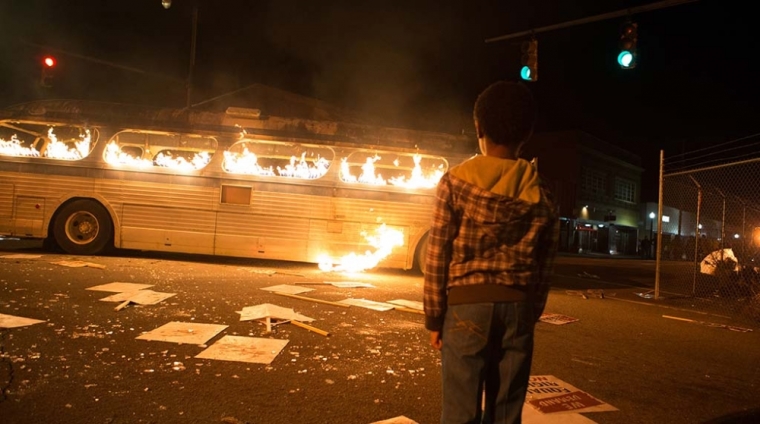 Because Woodlawn was among the last to integrate black and white students the FBI wanted to close the high school. It was a trying time in America's history, but Downes believes the hope in Jesus and unity exemplified in the film can have a positive impact on racial tensions that continue to plague communities.
"'Woodlawn' is sharing a true story that actually happened to [current generations] that is showing that we can come together, we can heal, there is a way out of this and there's one way out of it. And that's Jesus Christ," said Downes.
The film was directed by the Erwin brothers who also worked with Downes on "Moms Night Out." And brothers Jon and Andrew used to work as cameramen for ESPN covering professional football. Downes said the directors wanted the audience to feel like "they were in the game" and he feels like they accomplished that goal.
Aside from producing, Downes also plays a reporter in a short scene in the beginning of the film that features Hollywood veteran and current "Ray Donovan" star Jon Voight.
Voight plays Paul William "Bear" Bryant, former head coach of the University of Alabama football team where Woodlawn High School player Tony Nathan (Caleb Castille), eventually ended up. Once Downes heard Voight was going to be a part of the film he demanded a scene with the actor.
"I don't care how small [the role]. I want to be in a scene with Jon Voight just because I admire him so much. He did a lot of great films and he's just a great actor. He's a true gentlemen and he loves the themes of the film, the story, finished product and Caleb Castille, who plays Tony," said Downes.
"Woodlawn" releases in theaters nationwide on Friday.