World Suicide Prevention Day 2017: Rick and Kay Warren Talk 'Unbearable Agony' of Losing Loved One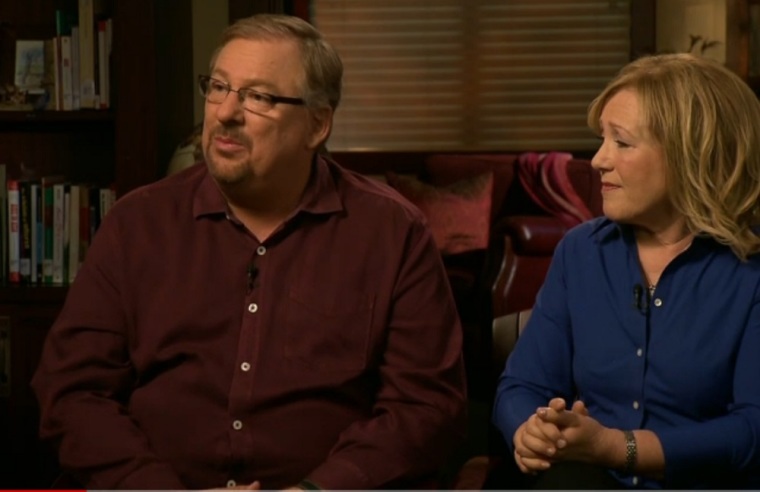 This year's World Suicide Prevention Day is being observed on Sunday, and Saddleback Church pastor Rick Warren and his wife, Kay, are urging the church to actively stand up and help those in despair.
"Calling on all faith leaders to PRAY for people affected by suicide at your services this weekend," Kay Warren tweeted Wednesday.
Each year, more than 800,000 people die by suicide and 25 times as many make suicide attempts.
The Warrens, who in 2013 lost their 27-year-old son, Matthew, to suicide, have become major mental health advocates in the church, organizing conferences on the issue and calling for more Christian engagement.
"Saddleback Church has always been a welcoming, inviting congregation to anyone in need, but it has become an even more compassionate place as we've expanded our conversations around mental illness, listened to the stories of those living with a mental illness, and learned what we can do to more fully support individuals and families in a mental health crisis," Kay Warren wrote in an earlier Facebook post, shared by her husband, promoting World Suicide Prevention Day.
"As suicide loss survivors, Rick and I know firsthand the almost unbearable agony that accompanies the suicide of someone you love. We ache for those in our congregation — and in yours — who are experiencing despair.
"These friends — brothers and sisters in Christ — need to know that their church is a safe place to share the inward torment of their pain, and that their pain will be met with deep compassion and acceptance."
The theme for this year's suicide prevention day is "take a minute, change a life."
"As members of communities, it is our responsibility to look out for those who may be struggling, check in with them, and encourage them to tell their story in their own way and at their own pace," the website explained.
"Offering a gentle word of support and listening in a non-judgmental way can make all the difference."
It highlighted that behind the rising global suicide and suicide attempt statistics are "the individual stories of those who have, for many different reasons, questioned the value of their own lives."
This year marks the 15th annual World Suicide Prevention Day event, which was first recognized in 2013 as part of an initiative of the International Association for Suicide Prevention and endorsed by the World Health Organization.
The National Action Alliance for Suicide Prevention has separately set up a National Day of Prayer for Faith, Hope and Life, urging individuals and organizations to pledge to participate in prayer this Sunday.
Kay Warren pointed out on Facebook that talking about suicide remains "one of the last taboos" in culture.
"Yet we are surrounded by multiplied thousands of men, women, and children — including teenagers in our church youth groups — who have lost hope and are experiencing suicidal thoughts," she wrote.
"One practical way your church can begin to engage is to join the faith community around our nation in praying for people touched by suicide on World Suicide Prevention Day on September 10. Your words of compassion, acceptance, and hope may be the lifeline that will help save the lives of people in your congregation."