World's Longest-Lasting Rainbow Seen Over Taiwan for 9 Hours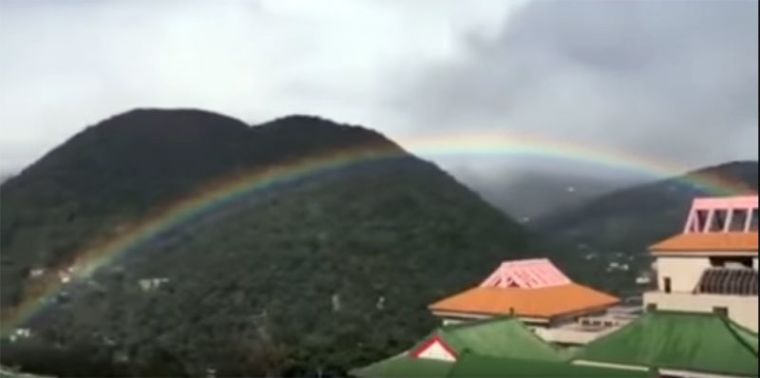 A rainbow appeared in the sky above Taiwan's capital Taipei this week and lasted for nine hours to become the longest-lasting rainbow in history, two scientists have claimed.
The rainbow appeared at 6:57 a.m. local time and was seen until 3:55 p.m. on Thursday, say Chou Kun-hsuan and Liu Ching-huang, both professors in the Department of Atmospheric Science of Chinese Culture University in Taipei city, according to Taiwan News.
Click here to see more photos and video.
The previous longest-lasting rainbow was seen for six hours in Wetherby in Yorkshire, U.K. on March 14, 1994.
The scientists said the rainbow lasted for such a long time because a monsoon was effecting northern Taiwan, Brinkwire.com.
"This was a gift from the sky," professor Chou was quoted as saying. "I was shaking when I observed a six-hour rainbow, but this was a miracle [to me], being able to capture a rainbow with such long duration."
Chou said four rainbows appeared in the sky Thursday, which included a primary rainbow and a secondary rainbow. "Besides the two main rainbows that are easily observed, the other two are known as supernumerary rainbows, which are less obvious to see due to the difference in the size of rain drops," he was quoted as saying.
The professor was actually trying to prove a theory claiming that a rainbow would descend seven degrees by height every 30 minutes, but his research ended up witnessing the longest-lasting rainbow.
He plans to pass the information to Taipei city council and register the claimed discovery with the Guinness World Records.
A rainbow is caused by reflection, refraction and dispersion of light in water droplets resulting in a spectrum of light appearing in the sky.
Since rainbows appear when there are water drops in the air and sunlight shining from behind the observer at a low altitude angle, they are usually seen in the western sky during the morning and in the eastern sky during the early evening. A rainbow looks spectacular especially when half the sky is still dark with raining clouds and the observer is at a spot with clear sky in the direction of the sun.
The book of Genesis Chapter 9 in the Old Testament mentions the appearance of a rainbow, as part of the flood story of Noah, where it is a sign of God's covenant to never destroy all life on earth with a global flood again.