Michelle Obama Olympics Speech Ends With Lift From Wrestler Elena Pirozhkova (PHOTO)
Elena Pirozhkova, a female wrestler for the U.S.A.'s Olympics team, chose to demonstrate her strength to Michelle Obama last Friday by hoisting the first lady into the air after her remarks during a news conference.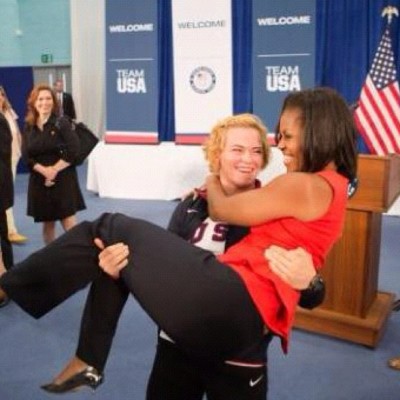 Pirozhkova, 25, playfully lifted Obama at a meet-and-greet event for Team U.S.A. July 27 at the University of East London prior to the Opening Ceremony of the 2012 Olympics.
"Even before she made the rounds I thought I can't just hug her like everybody else," Pirozhkova said, according to USA Today.
"I hugged her, and then I asked her if I could pick her up. I think she was nervous. I went slow. I just picked her up," she continued.
"I wanted to ask her permission. There was security all around. And she gave it. I will only meet her once. I wanted to do something different," concluded Pirozhkova, who was born in Russia and moved to the U.S. at the age of three.
The first lady, who has centered her dignitary campaign on personal health and fitness, has been cheering on the Olympic athletes along with her husband, President Barack Obama.
Michelle Obama attended the Olympics throughout the weekend, witnessing U.S. swimmer Ryan Lochte receive a gold medal on Saturday and hugging each member of the U.S.A. basketball team after they won their match against France on Sunday.
"Being here is otherworldly for me, you know," Obama said Friday at a pre-Olympics Ceremony reception, according to Reuters. "I am still so inspired by all of you. I am still in awe of everything you have achieved."
Smiling, the first lady added, "Try to have fun. Try to breathe a little bit. But also win, right? In the end winning is good."
This isn't the first offbeat run-in White House leaders have had with Olympic athletes. In 2008, President George W. Bush was invited to slap the rear-end of a female Olympic volleyball player, Misty May-Treanor.
Bush settled for slapping the lower part of her back.