Wyoming passes first-of-its-kind law criminalizing sale, prescription of abortion pills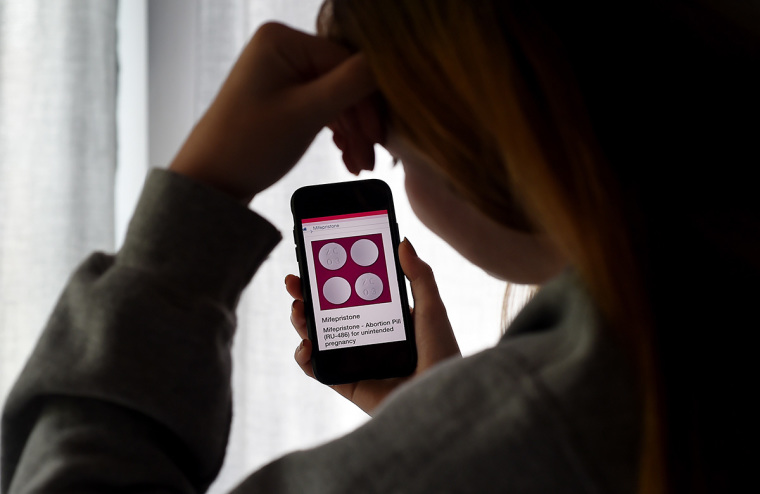 Wyoming has passed legislation criminalizing the sale and prescription of abortion pills after Republican Gov. Mark Gordon signed a bill on Friday dubbed the "first of its kind." 
The legislation, SF 0109, was sponsored by Republican Sen. Tim Salazar and will take effect on July 1. The bill makes it a felony to prescribe, sell or use "any drug for the purpose of procuring or performing an abortion." Violators face up to six months in prison and a $9,000 fine.
The bill includes an exception for contraceptive agents "administered before conception or before pregnancy," the "treatment of a natural miscarriage according to currently accepted medical guidelines" and "Treatment necessary to preserve the woman from an imminent peril that substantially endangers her life or health." The bill defines "imminent peril" as "only a physical condition and shall not include any psychological or emotional conditions."
"No medical treatment shall form the basis for an exception under this paragraph if it is based on a claim or diagnosis that the pregnant woman will engage in conduct which she intends to result in her death or other self‑harm," the bill states. 
Thanking Gov. Gordon, the anti-abortion advocacy organization National Right to Life Committee President Carol Tobias says the law will "protect mothers and their babies from this deadly drug."
"In a chemical abortion, a perfectly healthy mother of a perfectly healthy baby ingests a drug that takes the life of the unborn child and has the potential to endanger the life of the mother," Tobias said in a statement.
Mini Timmarajupro, president of the pro-abortion activist group NARAL Pro-Choice America, called the bill "alarming," adding that 17 states are enforcing bans on abortion since the U.S. Supreme Court overturned Roe v. Wade last June.
"There's no stone that anti-choice extremists will leave unturned as they seek to do everything they can to ensure that abortion is banned across the nation," she said. "Anti-choice Republicans don't care if real people are harmed — they only care about banning all abortion, everywhere."
The chemical abortion drug regimen requires two drugs — mifepristone and misoprostol. Mifepristone, also known as RU-486, chemically destroys the environment in the uterus to starve the baby to death. The U.S. Food and Drug Administration mandates using misoprostol to induce cramping and contractions to expel the baby from the mother's womb.
Susan B. Anthony Pro-Life America, a leading national pro-life grassroots network, said abortion drugs can cause "hemorrhaging, the need for surgery and even death."
"According to Medicaid data, the rate of chemical abortion-related ER visits have increased 500% since mifepristone was approved," SBA Pro-Life America Western Regional Director Adam Schwend said in a statement. "Wyoming's new law will limit the abortion industry's ability to jeopardize the health and safety of women and girls."
On Friday, Gordon allowed a second, more sweeping pro-life bill to become law without his signature. This legislation, known as the Life is a Human Right Act, bans abortion under most circumstances, with penalties of up to five years in prison and a $20,000 fine.
Exceptions to the ban include cases of incest, sexual assault, when the mother's life is in danger or instances of "lethal fetal anomaly."
The Life is a Human Right Act, which took effect Sunday, states that "abortion as defined in this act is not health care," referencing the Wyoming constitution. The act further says, "instead of being health care, abortion is the intentional termination of the life of an unborn baby."
Gordon's office issued a statement warning that the new law, HB 152, may result in a new lawsuit, delaying any resolution to the constitutionality of the abortion ban in Wyoming.
After the U.S. Food and Drug Administration announced earlier this year that it will allow pharmacies to dispense abortion pills, the major pharmacy retail chain Walgreens said it is taking steps to begin offering the drug. But that led to backlash from various pro-life groups and nearly two dozen state attorneys general.
Walgreens responded to the attorneys general by stating that it will not dispense abortion pills in states where it is not legal to do so.
"We have responded to the state attorneys general letter to Walgreens dated February 1 by indicating we will not dispense Mifepristone in their respective states," Fraser Engerman, senior director of external relations for Walgreens, told The Christian Post earlier this month.
Last month, Attorney General Andrew Bailey of Missouri led a coalition of 20 attorneys general in sending letters to Walgreens and CVS, promising to take legal action if the company began distributing the drugs. 
The letters were signed by the attorneys general of Alabama, Alaska, Arkansas, Florida, Georgia, Indiana, Iowa, Kentucky, Louisiana, Mississippi, Montana, North Dakota, Ohio, Oklahoma, South Carolina, South Dakota, Texas, Utah and West Virginia.
Earlier this month, California Gov. Gavin Newsom said his state will withdraw from a $54 million contract with Walgreens in response to Walgreen's announcement that it would not sell abortion pills in states threatening consequences. Newsom accused Walgreens of caving to "extremists [to] cut off critical access to reproductive care and freedom."
A Walgreens spokesperson told The Christian Post that "Walgreens is facing the same circumstances as all retail pharmacies, and no other retail pharmacies have said that they would approach this situation differently, so it's unclear where this contract would now be moved."