Yellowstone Grizzly Attacks: 4 Injured in 2 Attacks on Same Day
Yellowstone grizzly attacks have left four people injured, with two separate bear attacks taking place on the same day at Yellowstone National Park.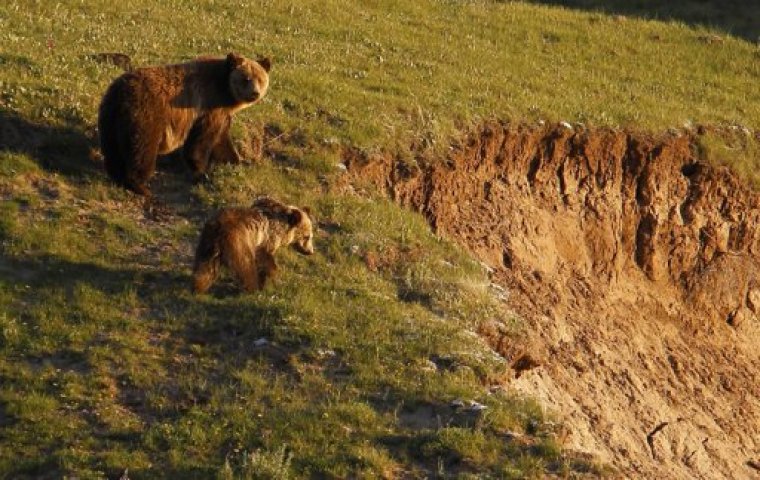 In one of the attacks that took place on Thursday, two hikers were talking on a trail near Canyon Village when a female grizzly attacked the pair when they came across her young cub.
Park spokesman Al Nash explained, "(the) bear by all accounts was acting on instinct, defending its cub," according to ABC News.
As the bear was adjudged to be acting on instinct to protect its young, park officials decided against pursuing the grizzly in that case.
The victims in that attack were not publicly identified by officials, but reports indicate that one was treated at the scene for minor injuries, and the other person was taken to hospital suffering from bite and claw wounds.
Both victims managed to survive the attack by using bear spray and by dropping to the ground to play dead. Their survival strategies were praised as "perfect" by park officials who have promoted that advice to hikers through the park if a bear attack takes place.
The second attack, also on Thursday, took place about 70 miles away in a valley near Island Park, Idaho. That attack involved two Bureau of Land Management contract workers, who were doing a forest health assessment when a grizzly attacked them.
One victim required stitches on his thigh and buttocks after suffering bite marks, and the other suffered bite wounds to his hands as he attempted to fight off the bear using bear spray.
In that case officials have said that the grizzly was likely resting in a day bed and may have been startled when it was disturbed by the workers.
Grizzly attacks in the Yellowstone National Park have become more common in recent years as the bear population has recovered and increased. In the past three years though, bears have been responsible for four deaths in the area.