'You Can Do a Lot More Than You Think' With God in Your Life, Says Hobby Lobby Co-Founder Barbara Green
Business Owner Praises God After Winning Canterbury Medal for Religious Freedom
'You Can Do a Lot More Than You Think' With God in Your Life, Says Hobby Lobby Co-Founder Barbara Green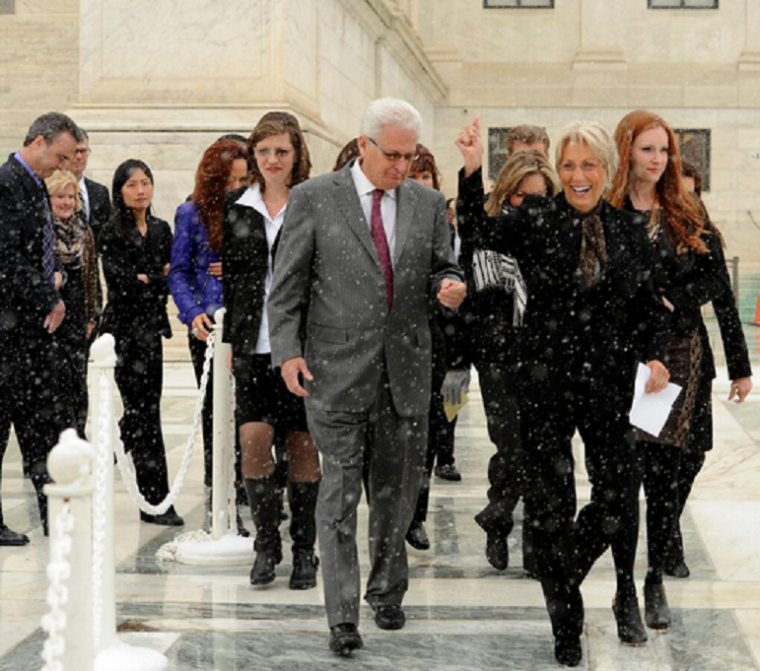 NEW YORK — Barbara Green, the Christian co-founder of Hobby Lobby whose family won the landmark Hobby Lobby v. Burwell, case in the U.S. Supreme Court defending religious freedom last June, received The Becket Fund for Religious Liberty's Canterbury Medal during the firm's annual gala on Thursday and she declared "you can do a lot more than you think with God in your life" in accepting it.
The Becket Fund's Canterbury Medal recognized Green's courageous stance on religious beliefs as well as her strength as the public face of the family throughout two years of litigation, which ultimately resulted in Hobby Lobby's 2014 Supreme Court victory securing the religious liberty of closely held American family businesses. After accepting the fund's highest award, Green told the audience that her "heart is overflowing with blessing," but that the honor is not hers alone.
"I do want to clarify something — the decision was a family decision, to sue the Supreme Court," explained the Oklahoma City native. "We made it together. That means all the generations. … About 20 family members, and 12 of them are here tonight. We were united. I'm accepting this with great honor with them, I'm pretending they're up here on this stage right now."
In 1970, Barbara and her husband, David Green, took out a $600 loan and started a home business based squarely on biblical principles, stating, "We're Christians, and we run our business on Christian principles." Today, the family business, known as Hobby Lobby, is one of Forbes' largest private companies with over 20,000 employees and an estimated net worth of $5.8 billion.
After a long applause during Thursday's Canterbury Medal Dinner for Excellence in Religious Freedom, Green recalled the pivotal Supreme Court case in which Hobby Lobby Stores defended against the HHS mandate that required the family-owned business to provide potentially life-termination drugs and devices, contrary to the Greens' religious convictions.
"To do something because it's the right thing to do does not make it easy, but when you have Him in your life, you can do a lot more than you think you can," the Hobby Lobby co-founder noted. "It's only human nature to see if there's a less dramatic way to solve the problem, and we tried to discuss our options, there were just no options on the table. We couldn't take a life. We all believe that life begins at conception."
The Becket Fund is a nonprofit, public-interest law firm dedicated to protecting the free expression of all religious traditions, and it has defended clients of all faiths. Past Canterbury Medalists include Nobel laureate Elie Wiesel, author Eric Metaxas, Archbishop Charles Chaput, and former Ambassador to the Vatican James R. Nicholson.
Green went on to thank the Fund for "advocacy, wisdom, and many hours of preparation and performance" on Hobby Lobby's case before sharing her reaction to the landmark Supreme Court ruling.
"We had been told there would be lots of demonstrators against us in the case, and they were there," noted the Green family spokesperson. "But as we were walking down the steps, I heard chanting, 'Hobby Lobby, Hobby Lobby.' They were there for us. I thought, we had to either laugh or cry, and I decided to laugh. My heart was so touched on that cold day, I was so thankful for those voices of support."