YouVersion's Bobby Gruenewald on 'The Bible App For Kids,' 1 Million Downloads in Just a Few Days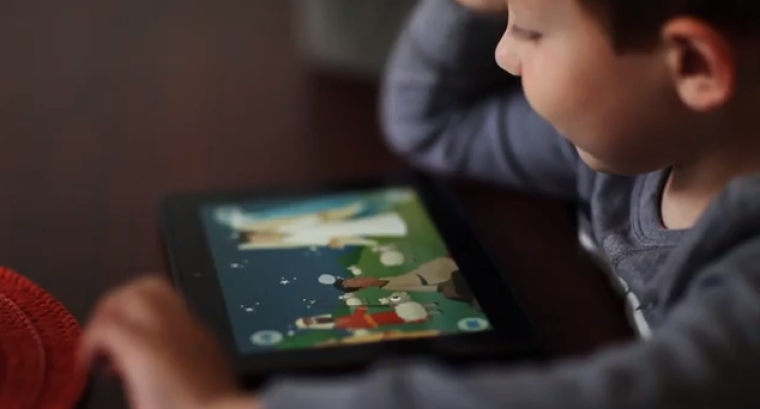 YouVersion's newest creation, The Bible App for Kids, has already been downloaded more than a million times since it was made available less than a week after its release on Thanksgiving Day. The app was developed in collaboration with the international ministry OneHope.
"Just like we've seen the Bible App transform how our generation is engaging with Scripture, we believe the Bible App for Kids will change how the next generation discovers the grand narrative of the Bible," said Bobby Gruenewald, innovation pastor of LifeChurch.tv in Oklahoma, which created YouVersion.
The primary catalyst for the project was the YouVersion community itself, "the world's largest digital Bible-sharing community," the Bible App creators say. Though some kids are already using the original Bible App, it wasn't really made with them in mind. YouVersion moved forward with the project when its survey indicated that more than 95 percent of its community of parents surveyed would be interested in the Bible App for Kids and that it would help their children engage with the Bible more in their everyday lives.
Today, mobile devices have become the new home PC and increasingly children are using either their parents' or their own smartphones and tablets to engage with content.
The app's creators say it's an engaging, interactive adventure that's beautifully illustrated and animated. The Bible App for Kids explores the larger story of the Bible from a walk through the garden with Adam and Eve to a journey to Bethlehem the night Jesus was born. The app was designed from the ground up to engage kids who can't read or are just beginning, and early readers.
"With translations in other languages besides English in the works, the app will also make it possible to reach children worldwide. Even in countries where evangelism is difficult, smartphones are prevalent," said Rob Hoskins, president of OneHope.
The Christian Post recently interviewed Gruenewald, after news of the app having surpassed the one-million downloads mark was released. The edited version of the interview is below.
CP: Why do you believe that The Bible App for Kids is one of the best mobile experiences available for children?
Gruenewald: I have four young children that are between 7 months old and 8 years old, and of course, they are engaged with mobile devices, playing games, and different apps that they are installing, so I am always paying attention to the types of things that capture and engage them. So, when we designed The Bible App for Kids we really, from the ground up, wanted to create an experience that would really pull a 4- to 10-year-old into the Bible, really help connect with them. We tried the best we could to include an experience that does that.
We worked really hard with our partners and our team to basically create an experience that has interaction, has gaming elements to it, gives kids the opportunity to listen and read, and see the way that it kind of comes to life by the way they interact with it. Hopefully, they will be motivated to spend time in it by gaining achievements and other types of elements like hidden objects that they find in the stories.
It's definitely been designed for kids, however, we hear from a lot of adults who have been playing it as well that find it fun to use and connect with as well.
CP: You've announced plans for added features that allow parents to interact with their kids by connecting their YouVersion accounts. Can you give examples of the added features?
Gruenewald: As we add more stories, right now we've launched with six stories, our plan is to grow that to 40 stories. You will be seeing additional stories come out fairly frequently over the next year and as we get more stories the plan is to have coordination with the reading plan maybe the parents are reading on the Bible App that corresponds to what the children are doing in The Bible App for Kids. Then, there's also some plans for features that involve the ability for parents to be able to go through stories with children in a way that involves them narrating the story, and different types of features that will further engage parents with their children. We have ideas that we haven't landed on, but are quite possible, like being able to give parents reports on stories their kids are reading during the week, or keep them up to speed on how children are using the apps so they can have conversations about them with their kids as well.
CP: What is your hope for The Bible App for Kids? How does this compare to other projects of yours?
Gruenewald: Our mission with what we are doing with YouVersion is to really engage people in the Bible. We hope to see this generation become the most Bible-engaged generation in history, which is extremely ambitious because it's a long ways from where we are today. We feel like there is a lot of opportunity for growth. But, in doing so, we think that having the opportunity for children who are becoming increasingly connected to mobile apps and mobile technology, we think it's important to create an experience to engage them as well. The response so far has been overwhelming to us. It's not just the fact that we've seen a million devices installed in the first week, but really more than that, it's the way that parents and kids are responding. We've never asked any parents to take a picture of their kids using the Bible app but so many of them took pictures and posted them to Instagram or Twitter because they were just fascinated with how much time their kids were spending engaged in Bible stories. It was kind of a natural response for something that was surprising and that was for us a huge win, not just in numbers but more in how kids just really loved it and how parents responded as well.
As far as the future, we have a lot of things that we are excited about that are all around Scripture engagement. The Bible App for Kids has been our focus obviously right now, and what we are excited about, but we have plans to soon launch new features on the Bible App that will also be exciting as well.
The Bible App for Kids is available for free on Apple, Android, and some Kindle mobile devices at www.bible.com/kids.