4-Year-Old Girl Melts Troubled Police Officer's Heart With Show of Love and Compassion
4-Year-Old Girl Melts Troubled Police Officer's Heart With Show of Love and Compassion
A police officer from Virginia owes a little girl he met on the street something that can never be brought or sold: joy.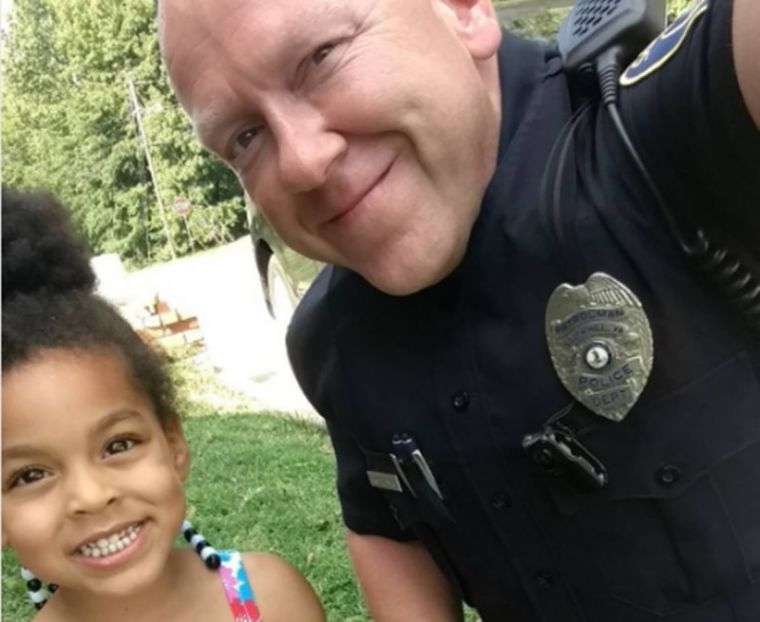 Police Officer Brandon Fleming was down in the dumps after making a "heartbreaking call" when, suddenly, a four-year-old girl appeared before him and lifted his spirit.
On an Instagram post, Fleming wrote about his amazing encounter with the girl simply named Nariah.
The police officer said he was in a gloomy mood that day while walking to his car when Nariah immediately brightened his day when she greeted him, "Hi, Mr. Officer!"
Fleming said he was surprised to see the little girl standing nearby with her mother, and her joyfulness jolted him, WTVR-TV reported.
When he asked her how she's doing, she said, "Great!" and then told him it was her birthday.
Then came the point when Nariah melted the police officer's heart. She asked him: "Can I have a hug for my birthday?"
That was just what Fleming needed that day. He said both of them ran towards each other and he felt happy after receiving "the most genuine of hugs ever."
Fleming asked Nariah's mom, Keturah Walker, their home address so he could deliver a birthday gift to her.
The grateful police officer later came knocking on their door to give his birthday gift to Nariah.
Walker filmed the occasion and posted the video on her Facebook page.
In her comment, Walker thanked the police officer for keeping his promise to her baby girl.
"I had no idea how his day was going, & to know that my baby inspired him & turned his day around...just goes to show we might just be doing something right with her after all," Walker wrote.
"Thank you so much for taking time out of your day to make my baby's day, you are truly one of a kind," she added.
Fleming was just as grateful, if not more so, for the totally unexpected meeting with Nariah,
"This right here people is why I do the job I do. For MY community. For EVERYONE'S children. For the betterment of US all," Fleming wrote on Instagram.
"If someone so small can show such a great deal of love and compassion to me, a complete stranger, then why can't we all do the same for one another?" he wrote.