Cheryl Cole Sues X Factor for $2 Million After Simon Cowell US Deal Turned Sour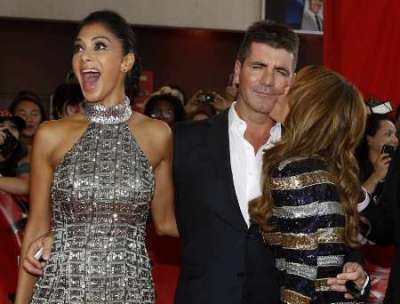 Cheryl Cole is suing X-Factor for $2 million in what she claims are unpaid amounts due under her contract.
The British pop star was originally cast to star alongside Simon Cowell in the U.S. Version of the reality TV singing competition, however, she was ultimately cut just weeks into filming.
Former American Idol judge Simon Cowell had brought Cole over from the U.K. after she became popular as a judge on the British version of Cowell's X-Factor show. The British version of the show has been hugely popular and Cowell thought that bringing Cole along would help kick start the U.S. version as well.
However, there were problems between TV bosses and Cole and the entire project to bring Cole into the U.S. Edition collapsed. X-Factor bosses fired Cole and replaced her with the Pussy Cat Doll's Nicole Scherzinger, who is better known in the United States.
Cole, who in fact shot to fame via a reality TV music talent show herself, was a member of girl group "Girls Aloud" who have had a string of number 1's in the U.K. and across the world.
Following the failed attempt at starring in the U.S. X-Factor Cole was paid off with her $1.8 million fee as due under her contract. However, attorneys for the singer have now filed a lawsuit at the Los Angeles Superior Court last Friday.
In the lawsuit Cole claims she is still owed millions of dollars by execs at Blue Orbit Productions.
In total Cole claims $2 million is still owed for a second series as part of a "pay or play" clause in her contract, as well as money she claims was promised for her expenses, including a $100,000 wardrobe allowance, a $25,000 stylist budget, $15,000 a month for accommodation, and a $2,500 a month living allowance, according to MSN TV.
Other costs being claimed are security and travel expenses, as well as legal costs and interest.