Christians Escape Terrorist-Besieged Philippine City With Help From Muslims Who Lent Them Their Hijabs
Christians Escape Terrorist-Besieged Philippine City With Help From Muslims Who Lent Them Their Hijabs
Some Christians trapped in the terrorist-besieged Marawi City in the Philippines have been able to escape, thanks to Muslim residents who lent them their hijabs to camouflage their faith from the Islamist extremists.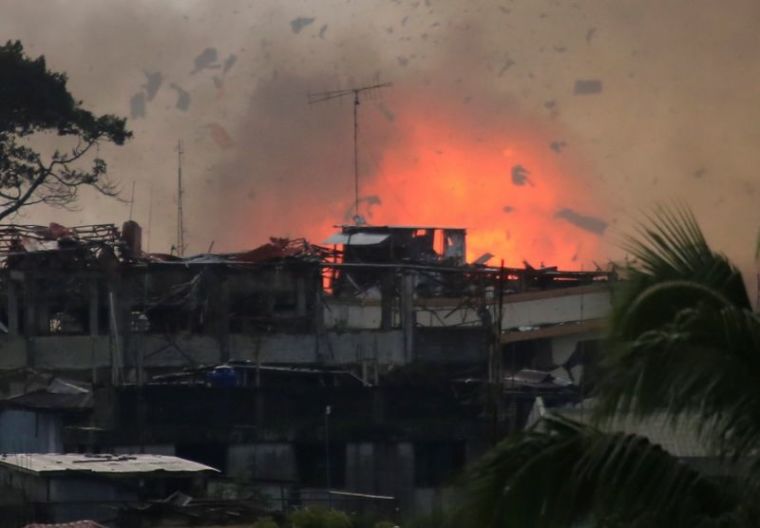 About 100 people have escaped from the city, some areas of which are still occupied and being defended by the terrorists allied with the Islamic State (ISIS), The Independent reported.
About 1,500 people are still trapped in the predominantly Muslim city in the southern Philippine island of Mindanao, which has been placed under martial law by President Rodrigo Duterte.
On Tuesday, Philippine warplanes dropped more bombs on terrorist positions while ground troops launched a renewed push against the terrorists, who have been holed up in the city for five weeks now, according to The Philippine Daily Inquirer.
The Philippine military intensified their offensive amid concerns that terrorist reinforcements could arrive after Eid al-Fitr, which marks the end of the Muslim holy month of Ramadan on June 26.
Nearly 350 people have been killed in the ongoing battles, according to the Philippine military.
Residents who managed to escape said they saw numerous bodies in the debris of homes destroyed in the bombing and exchange of gunfire.
Medics said the evacuees recounted to them their difficulties and their resourcefulness in managing to escape from the clutches of the terrorists.
"Some of the stories that stuck were Muslims helping protect Christian workers by letting them borrow a hijab," said Dr. Gloria Ancheta, head of the psychosocial therapy team.
The escapees said they suffered from starvation and were used as human shields by the terrorists during military airstrikes.
A local politician named Zia Alonto Adiong, who is managing the relief and rescue efforts, said some residents have been forced to "eat their blankets" and other materials they could grab their hands on because of extreme hunger.
"Some residents are eating (cardboard) boxes. They just dip it in water to soften the material and eat it," Adiong said.
Brig. Gen. Restituto Padilla, spokesperson for the Armed Forces of the Philippines, said there are still some 200 Islamist fighters who have taken up sniper positions in buildings. "The battlefield is very fluid," he said.
The general admitted earlier that Philippine troops are finding it difficult to dislodge the terrorists from their positions. This is because the soldiers have been trained in jungle warfare but are now fighting on urban terrain where the terrorists are holed up in homes and high-rise buildings and holding civilians as human shields, Padilla said.