Colorado Wildfire 2012 Destroys 350 Homes; Waldo Canyon Fire Map, Photos, Video
The Colorado Springs wildfire has continued to devastate the region on the borders of Colorado's second-largest city for a sixth straight day. It has so far destroyed nearly 350 homes, and forced 35,000 residents to evacuate the area, according to Mayor Steve Bach on Thursday.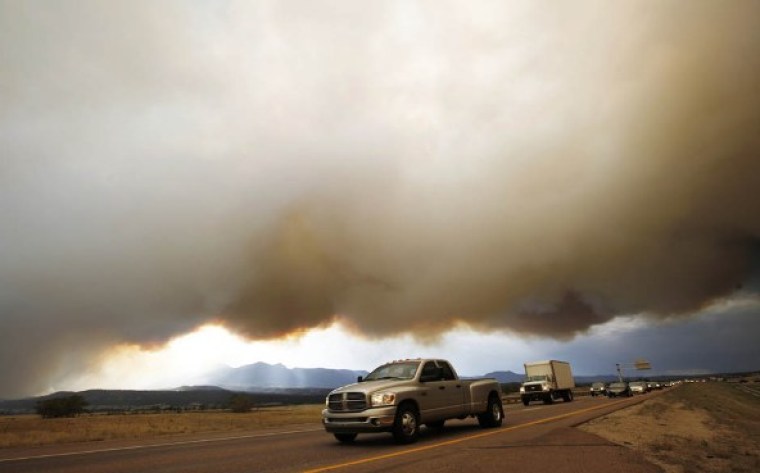 The Waldo Canyon Fire is now by far the most destructive on record, already devastating almost 100 more homes than the much larger Fort Collins Fire to the north of Denver, which has destroyed 257 homes, according to Reuters.
Winds have caused further difficulties for the more than 800 firefighters trying to tackle the blaze. Despite the early damage assessments it is currently impossible to tell with any certainty the precise extent of damage, as the flames are so intense and the smoke so thick making an accurate analysis extremely difficult.
Mayor Bach has tried to comfort those evacuated, saying that further news would be coming as soon as available on the state of their houses.
President Obama has been confirmed to tour the affected areas.
Pastor Brady Boyd of New Life Church in Colorado Springs, Colo. told The Christian Post on Wednesday morning: "It was apocalyptic when that fire started coming down the hill. The whole side of the mountain was on fire. It was unbelievable. I never witnessed anything like it in my life. It was a perfect storm for the fire."
Montana, Wyoming, New Mexico, Arizona, California and Utah all have wildfires spreading, and in Colorado despite firefighters working through the night, the fires were only 5 percent contained by Wednesday morning.
Much of the United States is experiencing hot temperatures of more than 100 degrees Fahrenheit, and the dry weather is expected to continue throughout the week, with little or no chance of rain for many areas.
Colorado Springs is a city of 419,000 people and is Colorado's second largest. The Waldo Canyon Fire, which was sparked at the weekend, has been fueled by winds of up to 65mph and has quickly spread towards Colorado Springs.
Colorado Governor John Hickenlooper, after surveying the fire from the air on Tuesday, said, "It was like looking at the worst movie set you could imagine. It's almost surreal. You look at that, and it's like nothing I've seen before."
Governor Hickenlooper has also said, "This is the worst fire season in the history of Colorado."
The City of Colorado Springs has issued a map on the mandatory evacuation areas. The map can be viewed by clicking here.
Waldo Canyon Fire - Colorado Springs, CO (FOOTAGE)