Electoral College Map: Latest Polls Indicate Swing States for North Carolina, Virginia, Florida (2012)
The latest electoral college map for the 2012 presidential election shows North Carolina's 15 electoral votes back as a toss up, as both President Barack Obama and Republican candidate Mitt Romney are registered in a tie for the state, according to a Public Policy Polling Survey.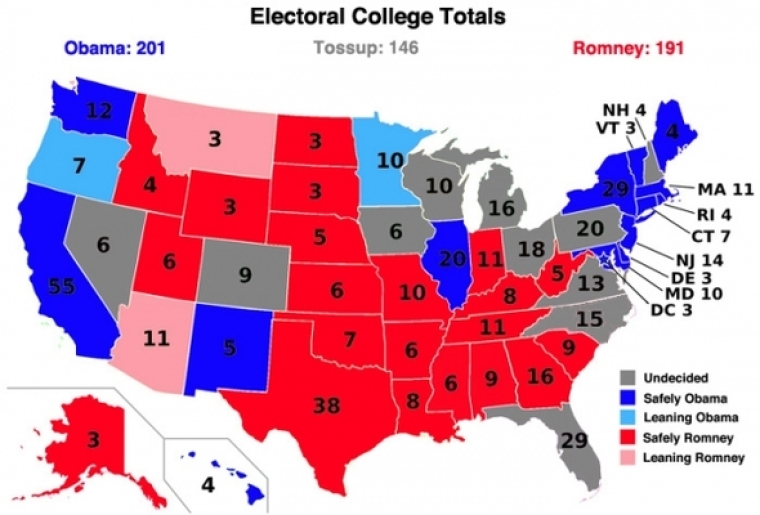 Real Clear Politics has now moved the state back into the toss up category, resulting in Obama leading in predicted Electoral College votes 201 to 191, according to RCP. That leaves 146 electoral votes as undecided still.
Just last week RCP had moved North Carolina as a "Leans Romney" state, but that "lean" now appears to be wiped out, and the state is still anyone's to call.
Some sources still maintain, however, that Romney will ultimately take the state; FiveThirtyEight has given the Republican candidate an 81 percent chance of winning the 15 electoral votes available there.
North Carolina has historically been a Republican leaning state, and in 2008 it was in fact the first time the Democrats had won the state since 1976.
Meanwhile Virginia is also an extremely tight contest, according to new polls. That state also was a Republican stronghold until the 2008 presidential election. President Obama won Virginia for the Democrats for the first time since 1964. At present a number of polls has Romney very marginally ahead of Obama in Virginia, but it's still too close to call confidently.
Florida is also a toss up in most electoral maps, with many giving Romney the slight advantage once again.
According to a new Harrisburg, Pa-based Voter Survey Service poll in Florida, Romney has been recorded as extending his lead in Florida. The poll gives Romney a five point advantage over Obama with less than two weeks left until election day.
The poll has Romney on 51 percent compared to Obama's 44 percent.
The poll was conducted of 1001 "likely voters" between Oct. 22 and Oct. 24, according to Newsmax.
That poll also shows that 12 percent of "likely voters" said the presidential debates had made some difference in their decision. The poll revealed that of those that were affected by the debates 40 percent switched to Romney while 22 percent moved towards Obama.