'Golden Girls' Theme Used in Obama Promo Video by Israeli Embassy to Washington (WATCH)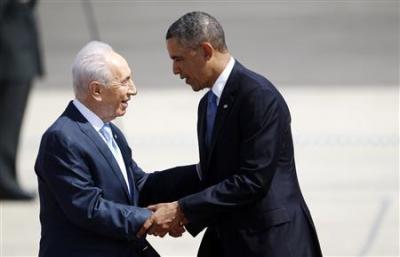 The Israeli Embassy to Washington has put together a unique promotional video for President Obama's first visit to Israel. The video features the theme song of the hit American TV series "The Golden Girls," which many will recognize and appreciate.
Cartoon figures with actual images of the heads of Prime Minister Benjamin Netanyahu and President Obama star in the video and show the closeness they share at a press conference.
"The bonds between the United States and Israel are unbreakable and the commitment of the United States to the security of Israel is iron-clad," Obama states in the video.
The two then exchange a meaningful handshake as the familiar tune begins to play.
"Thank you for being a friend / travel down the road and back again / Your heart is true, you're a pal and a confidant / Thank you for being a friend," the song says as Netanyahu and Obama are shown in Netanyahu's library, reading a paper and high-fiving.
Many have criticized Obama for not giving the Israeli community enough recognition or time during his presidency. However, the two countries have historically held a close relationship, and the United States has provided nearly $3 billion in grants to Israel since 1985, according to a 2010 report by Jeremy M. Sharp.
Obama landed early Wednesday and was greeted by Netanyahu. The national anthems of both countries were played upon his arrival.
"It's good to get away from Congress," Obama reportedly told Netanyahu, according to reporter Andrea Mitchell, who is in Israel for the meeting.
The two will have a joint press conference this afternoon after meeting in private.
Watch the video here:
President Obama Goes to Israel