Harry Styles Tattoo Photo: New Pirate Ship Tattoo for One Direction Star as He Poses With Taylor Swift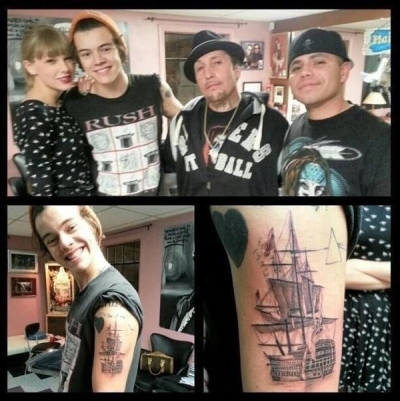 Harry Styles has had a new pirate ship tattoo inked onto his left arm, according to new reports.
The pirate ship is just the latest of a series of tattoos featured by the One Direction star.
Styles got the new tattoo inked at the Shamrock Tattoo Parlour in Los Angeles on Tuesday. He was joined by his new girlfriend Taylor Swift and his bandmates, who watched on.
According to reports, Swift held Styles' hand as he had the procedure done, and was seen chatting to a female friend who also joined them at the tattoo parlor.
The 18 year old boy band favorite was said to have been smiling and laughing through the procedure, and later posed for photos with Swift.
TheShamrock Tattoo Parlour in Los Angeles is famous, and has an extensive celebrity clientele, including L.A. Galaxy soccer star David Beckham.
Styles seems addicted to getting tattoos done; just last month he had another tattoo inked at the same location – a giant pair of birds across his chest.
Celebrity tattooist Kevin Paul has said: "Last time I spoke to Harry he said he is going to hold off on the sleeve for now but will be getting new bits soon.
"They're really personal to him - the reasons he had them done and stuff, so he doesn't really want to announce what they are. One was something from his childhood, and another one was something really important in his life."
Meanwhile, Styles and Swift seem to be getting along well and the tattoo "date" is just the latest in a string of dates the pair have had.
Swift was spotted out and about in New York City with Styles earlier this month. The pair were seen strolling around Central Park Zoo.
More recently, the pair was spotted holding hands at the bar in NYC's Crosby Hotel where Styles was reportedly celebrating a friend's birthday.
"Taylor and harry [were] being very smoochie," an onlooker told People magazine. "They definitely [looked] like a couple."
Furthermore, Styles stayed close to Swift with his arm around her for most of the evening.
This is not the first time Swift's love life has made headlines. The country music darling has been previously linked to John Mayer, Jake Gyllenhaal, and most recently, Conor Kennedy, among others. The singer's lyrics are often about her failed relationships, and Swift has not been shy about discussing love in past interviews.
"I've never had a really long relationship, so I have no idea what that's like," the "Speak Now" singer told Cosmo U.K. "Wish me luck for the future!"
"I really don't have any rules about dating when it comes to height, age, career choice, anything like that," she added. "It's really more about strength of character. When it comes to age I've been all over the map!"
Swift also once revealed how seriously she takes love while speaking to Rolling Stone magazine.
"The way I look at love is you have to follow it, and fall hard, if you fall hard," explained the "I Knew You Were Trouble" singer. Swift added that she falls in love regardless of the misgivings of other people.
"You have to forget about what everyone else thinks," she continued.
"It has to be us-against-the-world mentality," Swift told the magazine. "You have to make it work by prioritizing it, and by falling in love really fast, without thinking too hard. If I think too hard about a relationship I'll talk myself out of it … I have rules for a lot of area of my life. Love is not going to be one of them."
Swift remains a number-one artist with her latest album "Red," which includes the hit track "We Are Never Getting Back Together."