'Just Cause 3' Sky Fortress DLC Now Available to Non-Season Pass Holders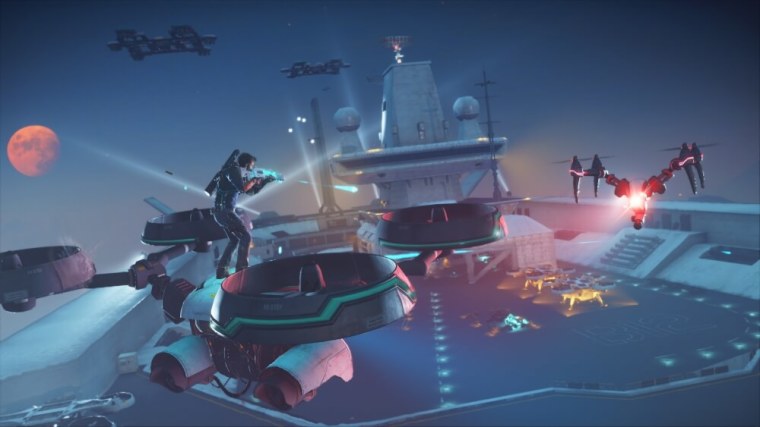 Square Enix has announced that the first content pack from "Just Cause 3's" Air, Land and Sea Expansion Pass is now available for players who don't own the season pass. The general sale allows players to get a brand new wingsuit, new missions, and new challenges, among other things.
The "Just Cause 3" Sky Fortress DLC can be bought for $11.99, €11.99, or £9.49. The new content pack includes the Bavarium Wingsuit which is a jet pack that can be upgraded. It is rocket-powered and fitted with machine guns capable of shooting auto targeting missiles. Players who will buy the new DLC will also receive the accompanying Bavarium Splitter assault rifle and a new personal defense drone called Eviction. The new missions and challenges will be based on a new threat in the guise of eDEN Corporation and its huge Sky Fortress which is reminiscent of the Avengers' flying battleship, according to Eurogamer.
"The new content will fundamentally alter how our players approach the game - we're really looking forward to seeing how fans adapt to the new Wingsuit," said Tobias Andersson, Senior Producer at Avalanche Studios. "The new story missions, challenges and gadgets that can be taken into the main game really mix things up, and we can't wait for players to revisit Medici and start getting even more creative."
Season Pass holders received the Sky Fortress DLC last week. In the same way, the upcoming two DLCs will release a week earlier to them before the publisher makes the content pack available to the rest of the "Just Cause 3" community. Square Enix said the DLCs will arrive before the end of summer 2016 but did not provide exact dates.
Meanwhile, those interested in buying the Season Pass can still do so. The Air, Land and Sea Expansion Pass costs $24.99, €24.99, or £19.99.