Justin Bieber Moon: Singer Bares Behind on Camera (PHOTO)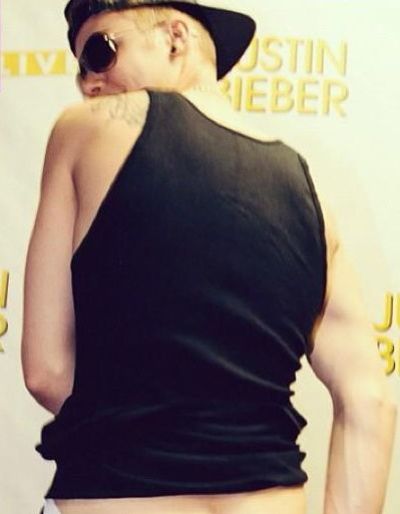 Justin Bieber appears to have lost touch with his values. The singer has become increasingly risqué since his breakup with Selena Gomez with his recent stunt eing the mooning of a camera.
Over the weekend Bieber posted a photo of himself lowering his pants and exposing his behind on Twitter. The photo was taken down within minutes of being posted, but thousands of followers had already viewed the picture.
Bieber's manager joked about the pop singer's stunt on Twitter.
"As a prankster you have to respect another good prank," Scooter Braun wrote. "Only makes sense. #crackdealer." Bieber responded with a simple, "Haha."
The stunt is just one of many that appear to reveal Bieber's wavering values. The singer has also been shedding more and more clothes while on stage during his "Believe" tour.
Last month the singer was under fire after media outlets posted a photo of the "As Long as You Love Me" singer smoking marijuana. The incident prompted an outrage, and some fans were duped into cutting their wrists in protest by a hoax.
Bieber responded to the incident on Twitter, suggesting that he was just a work in progress but trying to get better by the day.
"Everyday growing and learning. Trying to be better. U get knocked down, u get up," the 18-year-old pop star wrote on Jan. 5. "I see all of u. I hear all of u. I never want to let any of you down. I love u."
The singer's lashing out is an attempt to build a more mature image following his 18th birthday, according to reports.
"Justin wanted to change his image around his 18th birthday last March," a source told Us Weekly. "Justin wanted to move from being pop-py to sexy."
As part of image shift, Bieber has also been spending more time in the gym lifting weights.
"I train every morning," he told the magazine. "We do body-weight stuff. Just trying to … get some guns!"
Photog's Last Call -- He Absolutely Believed Justin Bieber Was Smoking Pot