Kim Kardashian 2012: 'Moving Forward and Not Looking Back' (VIDEO)
Kim Kardashian 2012: 'Moving Forward and Not Looking Back' (VIDEO)
After a year of ups and downs, Kim Kardashian is looking to put 2012 in the past saying, "Moving forward and not looking back."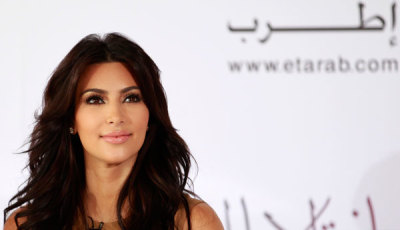 These are the words Miss Kardashian uttered to US Weekly in a nightclub in Las Vegas.
"I think a good lesson I learned about myself is to always follow your heart, and I think I'll never stop doing that," she said. "[I'm looking forward to] just having a really good 2012 and soaking in all the lessons learned in 2011. That's it. Simple."
Kim also told Us Weekly that New Year's was the first time she was getting "dressed up" in awhile. "I didn't wear a stitch of makeup. I really enjoyed that. But, it's fun to get all dressed up and glommed up again for tonight."
Although she's trying to get off to a good start in 2012, a book taking a look inside the lives of the Kardashians is going to be released by their former nanny, Pam Behan, and it is unclear as to what will be said.
TMZ initially broke the story last week, where Behan told the site that although the kids were "spoiled and disrespectful," she felt strongly about the children. "I love those kids, to this day I love them," she said
In the report from last week, Behan described a time she almost lost her job due to slapping Brandon Jenner, Bruce's son. She reiterated the story, and explained she had slapped him because he called her "a very bad name."
She told TMZ that eventually everything was okay and she had "slipped up."
Behan worked as the Kardashian nanny, assistant, and occasional cook until Kim was 17, and promises to reveal intimate details inside the book.
She wouldn't hint at those details, and said, "Buy the book," TMZ reported, as she insists the book won't "bash anyone."
Despite a good relationship with Bruce, Kim, and Kourtney, she states in the book that the relationship with matriarch Kris was very "love/hate" and the "extremely spoiled and disrespectful" children were Bruce's sons, Brandon and Brody.
The Christian Post Daily Report 01.03.12