Missy Franklin to Swim for High School Team: Olympic Gold Medalist Makes Decision (VIDEO)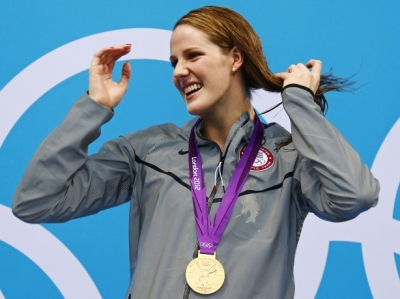 Missy Franklin is to swim for her high school, she has announced, after spending time contemplating what she should do.
The Olympic gold medalist told the Denver Post this week that she had decided to return and swim for her high school team during what would be her senior season.
Franklin had been debating what was the best thing to do, and whether she should return to the Regis Jesuit High School team after winning four gold medals in the London 2012 Olympic Games this past summer. She had admitted having a tough time coming to a decision.
Franklin had earlier said, "The hardest part for me is I really have no gut feeling on this. It's so hard when I have so many people who are really wanting me to do it and so supportive, and I have other people who are saying it's not fair, saying: 'Why would you do this to other girls?' And I feel so bad thinking that they would think that," according to the Guardian.
She added, "It's hard, because I feel like no matter what I do, it's going to be opposed in some way or form."
Some have urged her not to return to high school swimming as they feel it would be unfair to pit a four-time Olympic champion against other high school swimmers. As an example Franklin is about three seconds aster than anybody else in the state in the 100-yard backstroke, according to a New York Times report.
However, Franklin has said that she loves swimming for her school team, and that she loves the camaraderie involved with her teammates. Some have said it is her right to participate and she should not miss out the experience of her senior year swimming for her school.
"She's doing this because of her team, her school and the other girls who swim in high school," school athletic director John Koslosky told the Post. "And she wants to. They all want her there."
Franklin has confirmed that she will only participate in some of the school's meets, similar to how she competed last season. The school has also stated that it will do its best to keep cameras and the fanfare at a distance from her.
Koslosky has said, "Last year, there were all sorts of cameras everywhere...Missy was concerned about it, and I think that's what made her struggle in making this decision. But she said she wanted to pass on turning pro and attend college, and she signed to do that, and she said she wants to swim with her teammates and her school."
Franklin recently also announced that she will be attending the University of California next year, and that she plans to swim there for a full two years before turning pro.
Here is a video showing Missy Franklin winning gold at the London 2012 Olympic Games: