Nicki Minaj Scared? Singer Admits She's Scared of Being Labeled 'Mean' on American Idol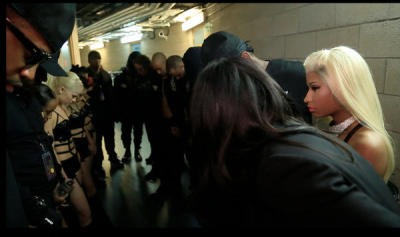 Nicki Minaj is scared of seeing the video of herself featuring in the upcoming season of "American Idol."
Some have been interested to see Minaj clashing with fellow judge Mariah Carey following a very publicized feud. However, that is not the reason she is scared of watching video playbacks.
Minaj is scared of her own "mean" self and what fans will think of her when they see her on the 12th Season of the hit reality TV singing show.
The singer recently admitted that she is sensitive when it comes to what people think of her, and she told show host Ryan Seacrest on his morning radio show that she is worried fans will label her a "mean" judge. Minaj is thought to have had a strict stance with singers, much in the similar line to popular ex-AI judge Simon Cowell. However, Minaj worries that some will think she is simply being nasty or unpleasant to the contestants and judge her.
Most would think of Minaj as someone who couldn't care what people think of her, however, the singer explained that she is feeling the opposite about American Idol and that she is scared of how things turn out following the season premiere on Jan. 16.
However, the 29 year old told Seacrest that she believed that "honesty was the best policy" when she was judging contestants on American Idol. However, she also admitted that she may have a few regrets about being so mean at times.
Minaj has said, "I'm scared. Maybe I shouldn't have been so like... It's hard for me to not say how I really feel... Everyone else is so nice. I was just thinking back about some things and I was like, 'I wonder if that was not so nice...' I don't think I'm going to be able to watch [the premiere]. I'm going to be so nervous. But I know people are going to love it. I think it's a great dynamic."
However, she is someone who believes in tough love. She said, "As an artist I've always grown more from the tougher criticism, and so I would like to be that person and to try to help people get that thick skin and to really give it their all, because it is a competition."
Minaj believes the upcoming season will be a hit and that fans will love the new chemistry between the new line up of judges, despite the rumors of her feud with Mariah Carey.
"The chemistry of the judges, I feel it while I'm there. I think it's really different from anything we've seen before on Idol and people are going to like it."