Pittsburgh Steelers vs Cleveland Browns Live Stream Free: Watch Online NFL 2013 Football (Start Time, CBS TV Schedule)
The Pittsburgh Steelers will face off against the Cleveland Browns on Sunday afternoon in a huge match up in the AFC North division. These two teams are tied for second on the division, and they will be fighting it to try and gain a grip of second spot today. The game will start at 1 p.m. ET and can be watched online through free live stream (details below).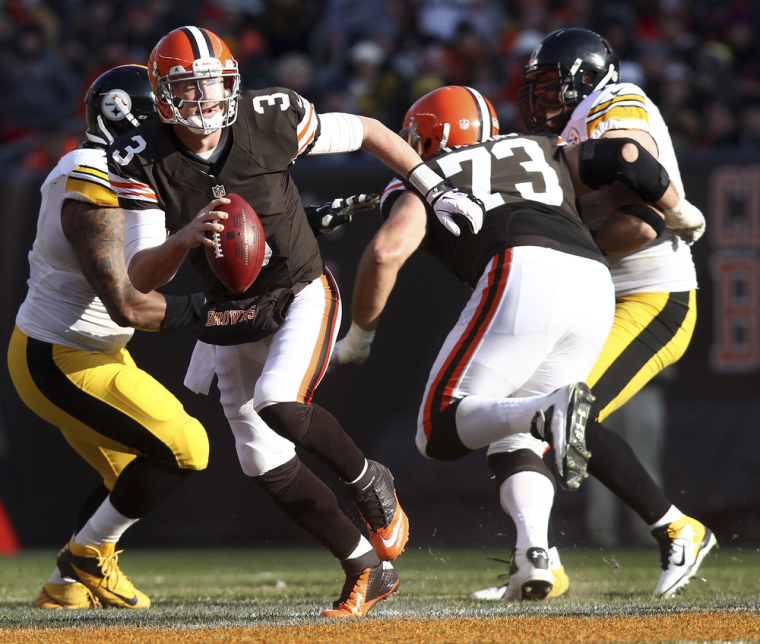 Both teams come into this match on 4-6, and both are locked in a three-way tie with the Baltimore Ravens for second place. The Ravens are playing today as well, against the New York Jets, so the pressure is on both these teams to win and try and keep pace in the division.
The Browns have struggled offensively this season, gaining less than 20 points per game on average (19.2 points), which ranks them 29th in the NFL in that department.
Their fantastic 24-18 win over the Baltimore Ravens in Week 9 was followed up last week with a bad defeat against Cincinnati. That on the road game ended 20-41 and many of the Browns' frailties were harshly exposed. They now meet Pittsburgh at home today, before hosting the struggling Jacksonville Jaguars next week. If they can win both of these games they should be in a good position as the regular season reaches a climax.
Meanwhile, the Steelers are ranked 7th in the NFL on pass offense, and they have managed to register 266.7 yards in the air per game. On the ground, however, they have only managed 76.5 yards on rush per game, which ranks their rush a lowly 30th in the league.
The Steelers have hit some good form recently and they come into this game on the back of two straight wins. Following the tough defeat in Week 9 against the New England Patriots, they have defeated the Buffalo Bills 23-10 and the Detroit Lions 37-27 at home. However, they must now overcome two on the road games against Cleveland and Baltimore, and those two games will go a long way to deciding which way their season will end up.
Ben Roethlisberger is 247 of 383 for 2,901 yards and 17 touchdowns.
The Steelers against the Browns will start at 1 p.m. ET and can be watched on TV on the CBS network or online through free live stream by clicking here.
Pittsburgh Steelers vs Cleveland Browns WEEK 12 NFL PREVIEW, 11/24/13