'The Affair' Season 3 First Trailer is Out; Spoilers, Cast Details and Premiere News Update
The show's home network has just dropped the first trailer on Friday, Oct. 7.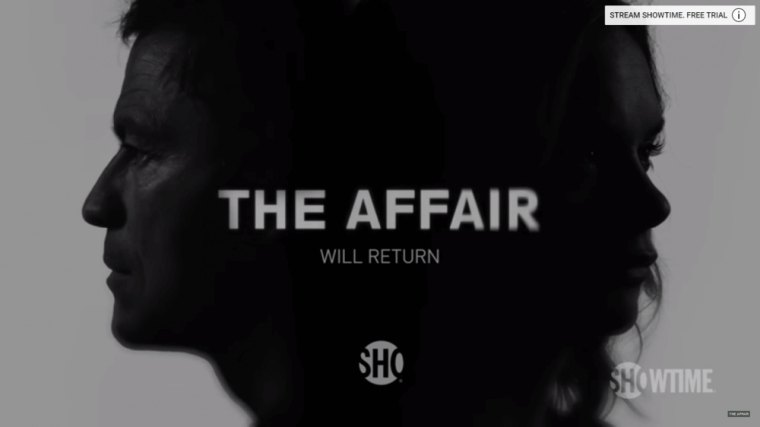 It was late last year when "The Affair" was confirmed for another run on Showtime. And, the TV drama series is back for its third season this coming November.
The critically-acclaimed show from co-creators Sarah Treem and Hagai Levi digs into the story involving several characters whose lives were intertwined by the extramarital relationship between its two lead characters and the ensuing ramifications of their illicit affair.
The Official Trailer for the Drama Series Has Just Been Released
The show's home network has just dropped the first trailer on Friday, Oct. 7. You can check out the teaser in the video below.
The upcoming series will take off with the events three years since Noah Solloway (Dominic West) was put into a trial where he pled guilty for the death of Scott Lockhart, the brother of Cole (Joshua Jackson). Season 2 finale, however, revealed that it was Helen Solloway, played by Maura Tierney, who was responsible for the death because of drunk-driving.
What to Expect in the Upcoming Season 3
It seems like everyone is trying to move on from the bitter and tragic memories of the past. Noah will try to work on rebuilding his life after prison. But, as he would quickly learn, it won't be that easy with the ghost of the past still haunting him.
He would, however, get some much-needed help from his new found love Juliette Le Gall, who will be played by newcomer Irène Jacob. The showrunner revealed that the new character will play a more substantive role as she tells the narrative with her own perspective.
Previously, there were just four perspectives on the show as told by Noah, Helen, Cole and Ruth Wilson (Alison Lockhart).
Alison, meanwhile, deals with Cole and Luisa (Catalina Sandino Moreno) as she lives her life with daughter Joanie in Montauk. Guilt-stricken Helen, on the one hand, also struggles to put the past behind her with boyfriend Vik and her children.
Cast and Air Date
Apart from Irene Jacob and the four actors playing the role of the two former couples, Julia Goldani Telles is also part of the show as Whitney Solloway, Jake Siciliano as Martin Solloway, Jadon Sand as Trevor Solloway, and Leya Catlett as Stacey Solloway.
They are joined by other cast members like Josh Stamberg, John Doman, Kathleen Chalfant, Mare Winningham, Colin Donnell, Danny Fischer, Michael Godere, Kaija Matiss, Lynn Cohen, and Deirdre O'Connell. Jennifer Esposito and Brendan Fraser will also make an appearance this season.
"The Affair" Season 3 is executive produced by Treem and Levi, alongside Jeffrey Reiner. You can catch the all-new episodes Sundays, at 10 p.m. starting Nov. 20 on Showtime.