'The Walking Dead' Cast News: Norman Reedus, Steven Yeun Help Out Victims After Car Crash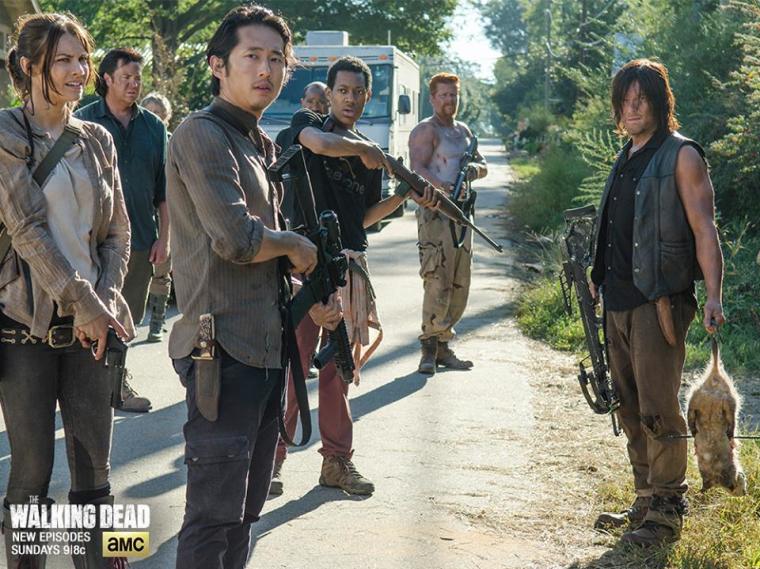 On Thursday, May 12, "The Walking Dead" stars Norman Reedus and Steven Yeun were spotted coming to the aid of a couple of motorists who had been in a vehicular accident in the city of Peachtree, southwest of Atlanta.
According to USA Today, Reedus and Yeun were taking motorcycle rides while on a break from the "Walking Dead" shoot when they chanced upon the accident and stopped to lend the people involved in the crash a helping hand.
In a photo published by TMZ, the "Walking Dead" stars, who were both clad in black, are seen standing beside a mangled car in the middle of a Peachtree City intersection. Reedus is on the phone, possibly reporting the crash and/or calling for emergency services.
According to TMZ, Reedus and Yeun stayed at the crash scene to make sure that everyone was OK, and waited until the police came before they left. Witnesses at the scene have stepped forward to describe the zombie-fighting Good Samaritans.
In an interview with Savannah TV station WTOC, Mikail Turan, who witnessed the aftermath of the crash, said of Reedus, "It looked like he was trying to help everybody, kind of calm everybody."
"It took me about 5-10 seconds to take these pictures and then the cops came and I'm sure after that, probably, they took off," he added.
"I looked out, [saw] a bad accident and [saw] two motorcycles stop," Ben Wilkie, who also spotted Reedus and Yeun at the wreck, told the station. "I said that [kind of] looks like Norman Reedus. Someone else came out and said, 'Yeah that's him!'"
WTOC reports that police have confirmed that the two "Walking Dead" actors were not involved in the vehicular accident and merely witnessed it. Those involved in the crash sustained only minor injuries.
The sighting of both Reedus and Yeun in Atlanta, where "The Walking Dead" is filmed, has given fans of the zombie apocalypse series hope that both characters will still be alive when the new season airs later this year.
The official premiere date for "The Walking Dead" Season 7 has not been announced.