'The Winds of Winter' Release Date, Spoilers & Updates: George R.R. Martin Talks About Emmys, NFL – Is 'Game of Thrones' Author Too Distracted to Finish Sixth Novel?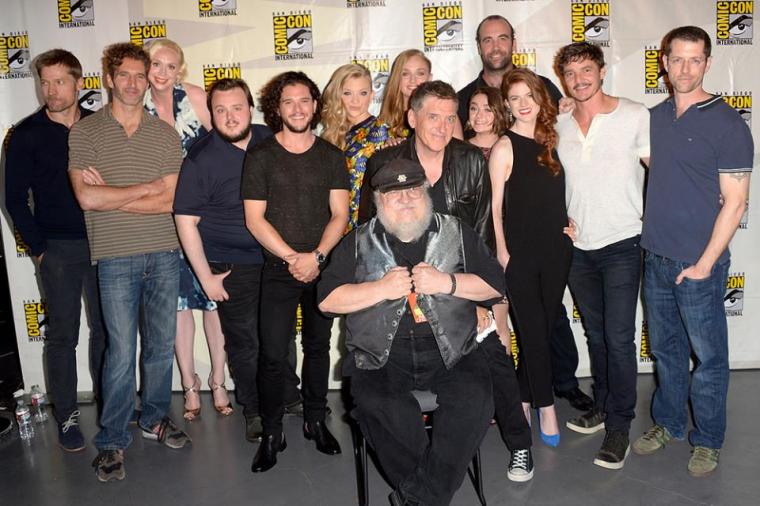 George R. R. Martin is active again online but he remains elusive about the progress of "The Winds of Winter" (TWOW), the sixth novel of the epic fantasy series "A Song of Ice and Fire" (ASOIAF). The "Game of Thrones" author recently talked about the Emmys, the NFL regular season and the US immigrants.
GOT & The Emmys

On the latest post of his online journal, GRRM expressed his happiness and gratitude after HBO's GOT raked nine trophies at the Creative Arts Emmy Awards. The critically acclaimed television series is an adaptation of the author's ASOIAF novels. He also serves as the executive producer of the show.
The 67-year-old novelist said that GOT took home the Emmys for casting, prosthetic and non-prosthetic makeup, production design and costume. The cult hit also received honors for sound mixing, editing, stunt coordination and special visual effects.
According to Martin, the hugely popular fantasy series now holds the record for taking home more Emmy Awards than any other drama in the history of television. He hopes that the television drama will win more Emmy Awards on Sunday.
NFL Season, US Immigrants

Aside from the Emmys, GRRM also wrote about his "agony" and "ecstasy" for the NFL regular season that kicked off last Sunday. The author, who is a self-confessed football fanatic, said he was tormented when the New York Jets bowed down to the Cincinnati Bengals. He added that he later turned ecstatic after the New York Giants won over the Dallas Cowboys.
Martin also honored the US immigrants in a blog post. He announced that the Jean Cocteau Cinema in Santa Fe will screen five immigration-themed films for free from September 23-30. He added that he will grace the opening of the event.
Too Distracted to Finish TWOW?

GRRM's recent posts implied that he is again preoccupied with a lot of things in the past days. Some fans are worried that the bestselling author is too distracted to complete TWOW.
It can be recalled that last year, GRRM admitted that distraction is the primary reason why he keeps on delaying the sixth novel of the ASOIAF series. He told Indiewire that the massive popularity of GOT made him busy and lost his focus on finishing TWOW. He disclosed that he can only write when he is undisturbed at his own house.
The release of TWOW was originally scheduled ahead of the premiere of the GOT Season 6. The hit television series aired from April 24 to June 26 this year with no novel to base from. Its seventh season will return in summer 2017.