Tsarnaev Steel Door: Boston Bomber Dzhokhar Tsarnaev Moved to Secure Detention Center (VIDEO)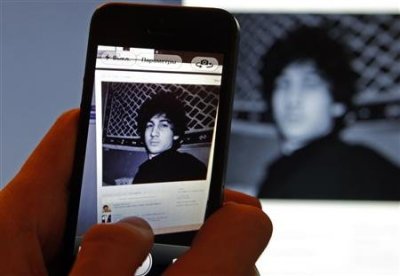 Dzhokhar Tsarnaev has been placed in a steel door detention center room, after being moved from a Boston hospital where he had been recovering recently since being captured by authorities for the Marathon bombings.
The prison is about 40 miles away from where police believe he and older brother, Tamerlan, detonated two bombs near the finish line at the Boston marathon earlier this month.
Dzhokhar was injured during confrontations with police as they closed in on him and his brother. Reports indicted that Dzhokhar suffered a serious throat wound and has struggled to communicate with investigators easily.
However, now he has been deemed healthy enough to be transferred from the medical facility to a federal medical detention center, where he is behind a steel door in a secured room.
Federal Medical Center Devens spokesman, John Collauti, has said the 19-year-old bombing suspect is being kept under close supervision, and the steel door to his room only has a small observation window and a slot for passing food and medication through.
The area where the bombing suspect is being kept has fewer privileges than other areas of the facility, and he does not have access to television and radio, although he does have access to read books and printed materials, according to prison officials.
Collauti said, "Really this type of facility is fully capable of handling him and it's not that much of an inconvenience because it's more or less business as usual."
The development comes following news that a call secretly taped by a Russian government agency shows that Boston Marathon bombing suspect Tamerlan "vaguely discussed" jihad with his mother in 2011, U.S. officials said.
In early 2011, the Russian FSB internal security service intercepted a conversation between now-dead bombing suspect Tamerlan and his mother, Zubeidat Tsarnaeva, vaguely discussing jihad, U.S. officials told The Associated Press on condition of anonymity.
The two discussed the possibility of Tamerlan going to Palestine, but he told his mother he didn't speak the language there.
In a second call, Zubeidat spoke with a man in the Caucasus region of Russia who was under FBI investigation in an unrelated case.
There was no information in the conversation that suggested a plot inside the United States, officials underlined.
Tamerlan's brother, Dzhokhar Tsarnaev, 19, who is the other bombing suspect, was transferred from Beth Israel Deaconess Medical Center to the Federal Medical Center Devens, about 40 miles west of Boston, late last week.
The Tsarnaevs are ethnic Chechens who emigrated from southern Russia to the Boston area about a decade ago.
The FBI had earlier been told by Russian authorities that they had concerns that Tamerlan and his mother were religious extremists. The FBI conducted a limited inquiry and closed the case in June 2011.
Had Russian authorities shared the information about the telephonic conversations, the FBI could have done a more detailed probe and possibly pre-empted the setting off of the shrapnel-packed pressure-cooker bombs during the annual Boston Marathon on April 15, which killed three people and wounded more than 260.
After the Boston attack, the Tsarnaev brothers had planned to go to Times Square in New York to blow up the rest of their explosives. They portrayed an impromptu scheme that failed when they realized the car they had hijacked was low on gas.
Explosions at the Boston Marathon