YEEZY Boost 350 V2 News and Updates: After Sold-Out BELUGA, Kanye West Flaunts Unreleased Colorway of Adidas Originals Sneakers [PHOTO]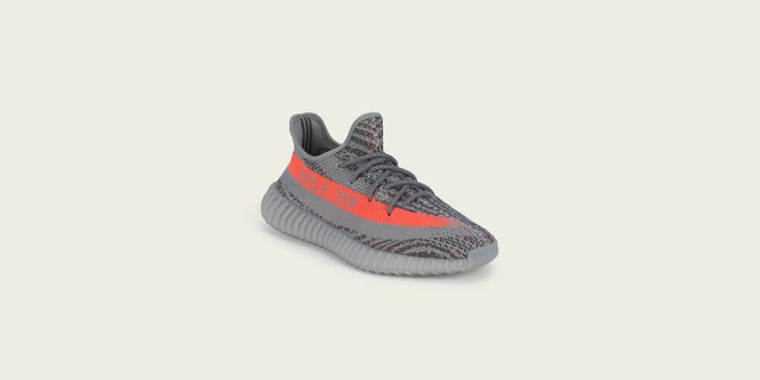 Along with the successful release of YEEZY Boost 350 V2 last weekend, Kanye West appeared to be teasing a new pair of the sought-after adidas Originals low-top sneakers. The rapper recently flaunted an unreleased colorway of the latest YEEZY shoes at a music festival in Chicago.
The New Colorway

According to Kicks on Fire, West made a surprise appearance at Chance The Rapper's first ever Magnificent Coloring Day music festival on Sept. 24. The 39-year-old rapper turned fashion designer showed up in style and was noticeably wearing an unreleased colorway of the YEEZY Boost 350 V2.
Compared to the "STEGRY/BELUGA/SOLRED" colorway that came out on Saturday, the low-top sneakers that West wore on the same day appear to be bolder and more experimental. The new pair comes in zebra-like black and white stripes over a white sole unit. The unreleased adidas Originals sneakers also have white laces.
Sold-Out BELUGA Pair

Per Adidas.com, the "STEGRY/BELUGA/SOLRED" colorway of the YEEZY Boost 350 V2 was already sold out ahead of its release last Saturday. The website advised costumers to check local retailers for the availability of the much-hyped low-top sneakers. They may also download the adidas Confirmed App to get the latest update about future YEEZY Boost 350 V2 releases.
YEEZY Boost 350 V2 is the successor of YEEZY Boost 350, West's game-changing collaboration with adidas Originals. The new low-top sneakers feature some significant design alterations from its predecessor, including a more prominent heel, translucent midsole and padded collar. It also comes with a Primeknit upper accented by a bright orange stripe and gray text "SPLY-350."
Despite being out of stock, there are still ways to get the new YEEZY Boost 350 V2 by joining various raffles online. Bustle reported that some selected PacSun stores will hold raffles for customers who want to own the adidas Originals-Kanye West collab. Urban Outfitters also offers the same online raffle.
More YEEZY Sneakers

In addition to the unreleased YEEZY Boost 350 V2 with black and white stripes that West flaunted last Saturday, several other pairs of YEEZY sneakers circulated on the internet in the past months. These include a black colorway with a TPU cage enclosing the hidden midsole.
Moreover, a blanched green and black colorway of YEEZY Boost 350 V2, as well as, an all-white colorway also made rounds online. West and adidas Originals have not yet confirmed the release dates for the new colorways of YEEZY Boost 350 V2.