Does I Corinthians say women have to cover their heads?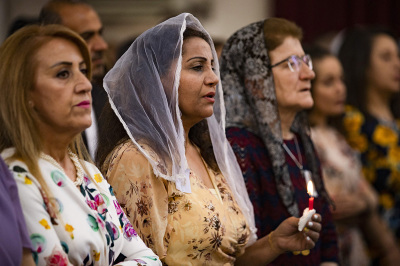 The assumption that 1 Corinthians 11:2–16 reinforces a universal Church custom that women must wear a garment over their heads in Christian worship to show their subordination to men makes this "one of the most obscure Pauline passages" (W. Meeks), one that "still awaits a really convincing explanation" (C.F.D. Moule, G. B. Caird).
This passage has many statements, including the following twelve, which do not make sense if it's about a Church custom that all women must have a garment covering symbolizing subordination:
"I praise you for … holding to the traditions just as I passed them on to you" (1 Corinthians 11:2). This doesn't make sense as the introduction to a passage about Corinthians flouting a custom Paul taught in all the churches, especially since the very next section begins, "In the following instructions I do not praise you …"
It was not disgraceful "for every man" (1 Corinthians 11:4) to drape a garment over his head. The capite velato was a sign of dignity and piety. Furthermore, Exodus 29:4–9 and Leviticus 16:3–4 command priests to wear a head-covering garment.
Prayer with uncovered heads was the common Hellenistic custom, not disgraceful. Head coverings were optional. Most depictions of women have no head-covering garment, so its absence was not disgraceful for "every woman."
"For she is one and the same with the shorn woman" (1 Corinthians 11:5b).  In Paul's day, an accused adulteress had her hair let down. It was shaved if she was convicted. This explains their equivalence. There is no comparable equivalence between not wearing a head-covering garment and being shaved.
"The woman ought to have [and exercise] authority over her head" (1 Corinthians 11:10) asserts the woman's authority. If this passage is about woman's subordination to man's authority, why does it only reference "authority" that is asserted by woman?
"However, the important thing [plēn BDAG 826 1c] is that woman is not separate from man" (1 Corinthians 11:11a). This denies a division between woman and man in the Lord and highlights this as Paul's important point. This contradicts the idea that this passage asserts man's authority over woman. As Anthony Thiselton has shown, the translation "independent" goes beyond the meaning of chōris. Most Greek dictionaries do not mention people "being independent" as a meaning of this word.
"Nor is man separate from woman in the Lord" (1 Corinthians 11:11b).  This is incompatible with woman being subordinate to man. In the Lord, namely in the experience of community in Christ, there is no separation by gender. Woman and man have equal standing. This is why both can lead worship in prayer and prophecy.
"For as woman came from man, so also man is born of woman" (1 Corinthians 11:11b).  This counterbalances any basis man might have as the source of woman for special standing or privilege.
"Does not the very nature of things teach you that if a man has long hair, it is a disgrace to him?" (1 Corinthians 11:14). It is unrelated to Paul's topic if he is talking about garment coverings.
"But if a woman has long hair, it is her glory" ( 1 Corinthians 11:15a) undermines Paul's message if he wanted women to cover their hair with a garment.
"This is because long hair is given her as a covering (peribolaiou)" ( 1 Corinthians 11:15b).  This, the only word specifying a head-covering garment in this passage, identifies long hair as her covering. This undermines Paul's message if he intended women to cover their hair with a garment. 1 Corinthians 11 has no reference to a veil (kalymma) even though Paul uses kalymma four times in 2 Corinthians 3:13–16.
"We, the churches of God, have no such (toiautēn) custom" (1 Corinthians 11:16). This contradicts the idea that Paul is appealing to a universal custom of the churches requiring women to cover their heads with a garment. Toiautēn means the exact opposite of the NIV, RSV, and NASB translation, "no other"!
No word in this chapter demands a garment "head covering." No other Bible passage prohibits male worship leaders from draping a garment over their heads or demands that female worship leaders drape a garment over their heads. On the contrary, the prohibitions of "braided hair intertwined with gold" in 1 Peter 3:3 and 1 Timothy 2:9 seem to assume that women's hair is visible.
So what is Paul talking about? Two cultural and one linguistic insight (which I will explain in my next op-ed) made sense of this whole passage.
One day while doing research at Cambridge. I found a study by H. Herter, "Effeminatus," in RAC (1957) 2:620–650. It cites over one hundred passages from classical antiquity, the largest number from Paul's time, that railed against men with effeminate hairstyles. Many are about homosexual-hookup solicitation. This fits the setting in Corinth because 1 Corinthians 6:9 states that some in that church had been "men who have sex with men." Romans 1:26–27 and 1 Timothy 1:9–11 identify homosexual acts as contrary to God's design and the Gospel. All this explains why Paul writes, "Every man who prays or prophesies having [long effeminate hair] hanging down from the head disgraces his head.
 This also avoids interpretations of 11:7–8 that contradict Genesis's affirmations of the image of God equally in male and female: "7For a man ought not [expressing a moral issue] cover his head [with effeminate hair] since he is the image and glory of God [and so should live in a way that upholds God's design in creation and brings God glory.  Displaying effeminate hair to solicit homosexual hookups is contrary to the way God created man for sexual relations with a woman.] Rather, it is the woman [not another man] who is [created by God to be] the glory of man.  8For man did not come from woman, but woman from man [to be his sexual partner]; 9neither was man created for woman, but woman for man [to be his sexual partner]."
The second key cultural background is that Dionysiac revelries on Mount Parnassus near the Gulf of Corinth were infamous for immoral sexual practices (Livy 11:255; Pausanius 10.6.2). Women (called "maenads") let their hair down (symbolizing undisciplined sexuality, C. R. Hallpike, "Social Hair," Man NS 4 (1969): 256–264), uttered ecstatic "prophecy," and engaged in orgies. The Roman historian Livy (59 BC–17 AD, LCL 11:255) writes that in Dionysiac initiation rites "there were more lustful practices among men with one another than among women."
Pervasive Dionysiac influence, with its strong emphasis on freedom from cultural restraints, best explains why at least one man in the church in Corinth would display effeminate hair and why at least one woman, perhaps wanting to express her freedom in Christ, let her hair down when praying or prophesying.
Everything in 1 Corinthians 11:2–16 makes sense if it opposes hairstyles that symbolize sexual availability. The only occurrence of the word in 11:5 for "uncovered" in the Greek Old Testament (Leviticus 13:45) is also about an "uncovered head" (NASB 1977) (translating hē kephalē autou akatakalyptos). Akatakalyptos translates the same Hebrew word that in Numbers 5:18's bitter water test refers to hair let down loose (HALOT 3:970). These coverings are all hair.
Philip B. Payne (Ph.D. The University of Cambridge) has taught New Testament in colleges of the University of Cambridge and has been a Visiting Professor of New Testament at Trinity Evangelical Theological Seminary, Gordon-Conwell Theological Seminary, Bethel Seminary, and Fuller Theological Seminary. He is well known for seminal articles on the parables of Jesus, women in the teachings of Paul, textual criticism, and Codex Vaticanus. His books include Man and Woman, One in Christ: An Exegetical and Theological Study of Paul's Letters, Why Can't Women Do That? Breaking Down the Reasons Churches Put Men in Charge, and (forthcoming April 4, 2023) The Bible vs. Biblical Womanhood: How God's Word Consistently Affirms Gender Equality. He founded Linguist's Software, which provides fonts and input systems for over 2600 languages, including the fonts used to publish the Nestle-Aland Novum Testamentum Graece 28th edition, the UBS The Greek New Testament, and HALOT (The Hebrew and Aramaic Lexicon of the Old Testament). He and his wife Nancy were missionaries in Japan. Their three children and six grandchildren all love the Lord.