In Haiti, big money for orphanages can endanger children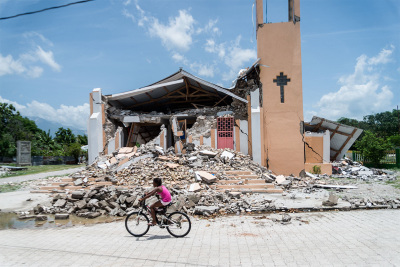 The Haitian government has fallen, almost completely. There are no more elected officials remaining. School has been interrupted for hundreds of thousands of children. Hospitals are barely open. Gang violence, mass displacement, and trafficking are rampant. 
Child welfare programs I've worked alongside for years are now working hard just to keep their staff alive.  They're getting calls every day about children starving as a record-breaking 4.7 million Haitians face hunger. 
Haiti didn't get here overnight. It's been in crisis for decades, escalating after the 2010 earthquake. Children, in particular, have suffered gravely at every stage, as families struggle to feed, educate, and generally provide for them during these tumultuous years.  
Many well-meaning groups from around the world have attempted to help the vulnerable children of Haiti by building and funding orphanages — giving about $100 million a year in donations. This has led to a proliferation and severe overuse of orphanages and children's homes. 
Because of the amount of money pouring into the country to support orphanages, children have been put in increased danger. Some of these orphanages became hubs for traffickers, and some orphanage administrators would pay families to surrender their children in order to obtain generous foreign funding. And even the very best of Haiti's orphanages now struggle to manage security threats from every side. Ultimately, these facilities will always come up short in caring for children. 
Additionally, we know that 80% of the children in orphanages have at least one parent who's still alive, and almost all of them have other relatives. But after the earthquake, and also in the present day, many of these families need assistance in order to care for their children. 
This is why the Haiti Family Care Network, the organization I chair, exists to facilitate collaboration among organizations working with children and families in Haiti, with the shared goal of seeing children thrive in families, not orphanages. These organizations are working to accomplish this by helping families secure access to housing, social services, and education, supporting economic empowerment, and providing foster care when needed, to name a few of their services. 
Of course, in light of the current security and economic crisis, the tragic situation in Haiti has only gotten exponentially more complex. Families, caregivers, and children all face the reality of unparalleled violence and suffering. It can be hard to even know how or where to help.
But I personally know child welfare advocates in Haiti who are still working to strengthen families, even now. And they're doing everything they can to support the men, women, and children they can reach. In spite of the chaos, they're offering parenting support, spiritual support, medical care, and education when possible, and they're establishing wrap-around children's programs wherever they can.  
And this effort is more than just a crisis response. It offers promise for the future of Haiti, even if that future feels difficult to see right now. 
Strengthening families helps build healthy, sustainable, and resilient communities. Many studies demonstrate clear links between familial strength and improved childhood and community outcomes across a wide range of metrics. Strong families raise stronger children and develop stronger communities. 
Many are currently doing the work of empowering Haitian families and have been for some time. In a variety of different types of programs and in regions throughout the country, these organizations are working to ensure that families have support when they are struggling and don't need to resort to giving their children over to orphanages in order to access the resources they need.
Amidst the current crisis, our network partners are focusing on ensuring families are able to stay safe and access essentials like food and clean water. We're doing this with the hope of keeping families intact during these troublesome times — and with hope for a better future for Haiti. 
We understand that hope isn't enough, though. Prudent, well-informed action is key if Haitian families and children are to know safety and happiness.  And we can't sustain this action without your help.

One way you can get involved is by learning about family-based care. The overuse of orphanages and trafficking of children is due in part to a lack of understanding from generous and well-meaning international donors. We don't have to repeat those mistakes. And for the sake of Haiti's children, I ask that you join me in making sure we don't by learning about this issue and directing your support during this crisis to organizations that are strengthening families.


Heather Nozea is the Child Protection Director for Rapha International in Haiti, and she also serves as the chair of the Haiti Family Care Network. She has spent most of the past decade living in Haiti, working with child survivors and engaging in efforts to prevent the trafficking and exploitation of children.