My Unpopular Opinion About Student Activist David Hogg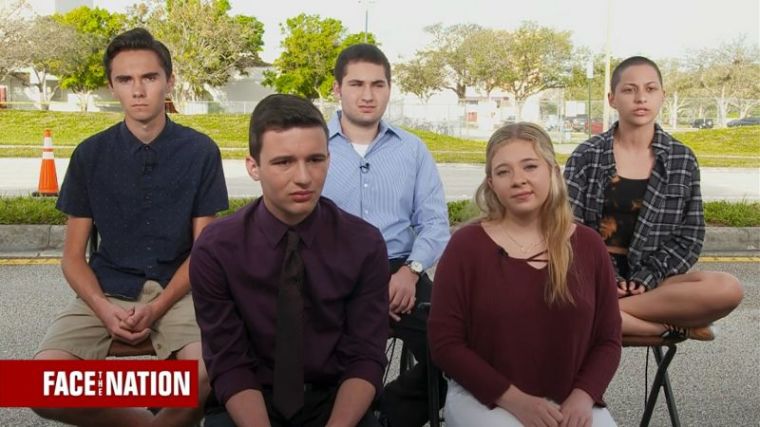 Most people commenting on Stoneman Douglas High School shooting survivor David Hogg these days has a strong opinion about the 17-year-old. And I suppose I do too, but just in a different way.
Right now, gun control activists love the young man. They've elevated him, promoted him, put him in front of cameras, invited him onto their talk shows, tweeted about him and retweeted virtually every thought that comes from his smart phone.
At the exact same time, gun rights activists range from frustrated indignation to outright contempt for Hogg. They see him as a propagandist, as a spoiled young man despicably using the deaths of his classmates to get his 15 minutes of fame.
I don't feel either way. I feel sorry for him.
Though I'm sure that I will be accused of patronizing him, I don't say that in a condescending way. Having myself voiced strong opinions publicly at a young age – though admittedly not quite as young and not quite as publicly as Hogg – I remember how much I clung to the Scriptural admonition to not let anyone look down on you because you are young. Now that I'm older, I keep that verse in mind no longer as a defense mechanism but a guiding principle in dealing with the ideas of young people.
Some young people have brilliant ideas. When James Madison was just 11-years-old, he was devouring the books in his father's library. By the time he was David Hogg's age, he had mastered Greek and Latin, and would soon start Hebrew. He was only 29 when he joined the Continental Congress, wise and learned for his age. David Hogg is no James Madison, but who is? The point is that while young people undoubtedly lack wisdom and experience, that doesn't automatically preclude them from having good ideas worth listening to.
The reason I feel sorry for Hogg is precisely because he has been thrust into a world he wasn't prepared to enter, he's being expected to perform, and it is consuming and overwhelming him. This is exactly what I was talking about a week ago when I shamed the media for using these kids in this way. Let them grieve and heal; if after that time you think they possess some key insight or worthwhile contributions to the gun debate, so be it. But let them speak after they've been able to get their emotions in check, get their wits about them, and be able to think clearly.
But being fair to these students isn't what the media is interested in. They are interested in ratings, and kids like David Hogg induce such emotion on both sides that it's a coup for any station that puts him on – NRA types will watch so they can tear him to shreds, Everytown types will watch so they can champion him. That's something that most adults can't handle, no less a vulnerable kid who just survived a massacre.
Take Hogg's undisciplined remarks on Brian Stelter's "Reliable Sources" program just days ago. Attacking the NRA spokeswoman Dana Loesch, he totally went off the reservation:
"She owns these congressmen. She can get them to do things, it's just she doesn't care about these children's lives."
To many people that sounds like an outrageously offensive, slanderous statement. You know what this sounds like to me? A 17-year-old high school kid that is overcome with passion and lets his emotions spill out unfiltered.
Then came the bizarre demand on MSNBC that Florida Governor Rick Scott be held accountable for the Sheriff's deputies that didn't enter the school to confront the shooter. While liberals pumped their fists, conservatives pounced on the obvious incoherence. The Sheriff is an elected official in the county, not some office manager for the Governor's administration. And all this came after Hogg had defended the inaction of Sheriff's deputies and the missed opportunities by Sheriff Israel himself.
To many that sounds like a dishonest charlatan lobbing biased political attacks. You know what this sounds like to me? A highly-coached 17-year-old high school kid that is not an expert on the questions being posed to him and he's doing his best to sound intelligent and poised.
As for Hogg's naked turn in recent days towards blatant leftwing activism. Here are some of his statements.
"Here's a radical idea, how about we don't spend money on arming teachers we spend it educating students in S.T.E.M. so people like @KyleJeter can do more cool stuff and we'll be able to create jobs in renewable, clean and independent American energy like wind and solar"
...and this:
"Sell FedEx stock! If they wanna stick with NRA we'll stick with @usps or @UPS"
...and this:
"Calling the sheriff a coward is so ironic coming from a man who evaded the draft multiple times due to his power and influence. @realDonaldTrump you're a hypocrite that is owned by the NRA please prove me wrong."
It's obvious to anyone that he's being propped up and used by those who, in their relentless efforts to advance a political agenda, aren't letting the tragedy of Parkland go to waste. It's those individuals - politicians and media who will manipulate these kids for a couple weeks and then kick them to the curb to deal with a now-complicated grief when they're no longer useful - that make me angry.
David Hogg? I just feel really bad for him.
Peter Heck is a speaker, author and teacher. Follow him @peterheck, email peter@peterheck.com  or visit www.peterheck.com.