Feminism: It's the Word of the Year, but It Doesn't Mean What You Think It Does
Women are flexing their collective muscle like never before.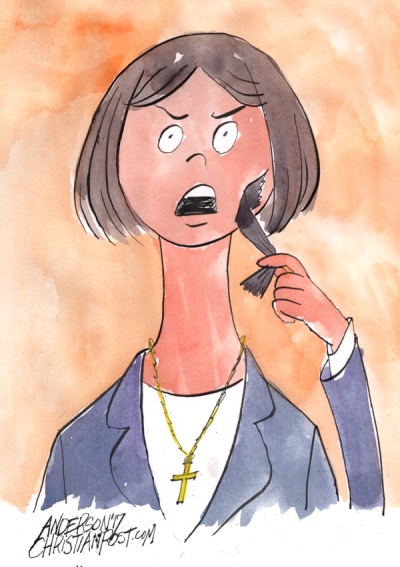 Feminism. It's Merriam-Webster's word of the year. And it's no wonder with the Women's March last January, the #MeToo Campaign this Fall – and the Boy Scouts' decision in October to allow girls into their organization.
Women are flexing their collective muscle like never before, so it's not surprising that feminism was looked up more than any other word in Merriam-Webster's online dictionary, generating 70 percent more searches in 2017 than 2016. What perhaps is surprising is that more than 50 years after the launch of modern feminism, people still don't know what the word means.
To Webster, feminism is "the theory of the political, economic, and social equality of the sexes," and "organized activity on behalf of women's rights and interests." But to the online urban dictionary, feminism "is a movement full of women who seem to think that their ability to push a baby out . . . entitles them to bigger and better everything." And to "Jesus Feminist" Sarah Bessey feminism is simply "the radical notion that women are people too."
Clearly, feminism means different things to different people, often depending on their own personal biases. But as I write in Redeeming the Feminine Soul, feminism is not merely about equality; it's a radical ideology that has evolved over the past several decades and has four distinct movements or "waves." And to understand feminism today, one needs to know feminism's sordid past, and also how misogyny ironically has become integral to the movement.
First- and Second-Wave Feminism
Initially, feminism aimed to abolish the misogyny, or hatred of women, that resulted from the Fall. This 19th- and early 20th Century movement, known as first-wave feminism, addressed man's denigration of women – the refusal to grant women the right to vote; to own property (if married); and to pursue higher education and certain professions. Yet, this feminism didn't seek its goals to the detriment of the family, nor women's role as mothers. In fact, feminist pioneer Mary Wollstonecraft wrote in her famous work, A Vindication of the Rights of Women, "(T)he care of children in their infancy is one of the grand duties annexed to the female character by nature."
However, second-wave feminism, which began in the 1960s, radically departed from this original vision. Its ideological founder, Simone de Beauvoir, wanted to abolish marriage because she believed the roles of wife and mother enslaved women. She also wanted to abolish sexual differentiation.
To Beauvoir, equality required sameness. As long as man viewed woman as "other," he would seek to oppress her. So Beauvoir advocated eradicating all gender classes. In her ideal society, there would "no longer be men and women, but only workers on a footing of equality."
Sadly, Beauvoir didn't see how inherently misogynistic her views were. Becoming androgynous requires women to die to their God-given feminine natures. This is an insidious form of self-hatred, but one that is rampant in modern feminism.
Beauvoir's misogynistic ideas were picked up and popularized in the United States by Betty Friedan, the person normally credited with launching second-wave feminism. Friedan dedicated her hugely influential book, The Feminine Mystique, to Beauvoir. And similar to Beauvoir, Friedan portrayed housewives as prisoners and viewed femininity as a vice, not a virtue. "Femininity," she wrote, ". . . makes American women a target and a victim of the sexual sell."
Not surprisingly, Friedan's brand of feminism quickly became fanatically pro-choice. In 1966, she co-founded the National Organization of Women (NOW). She also helped start an organization dedicated to pushing for abortion rights, which today is known as NARAL Pro-Choice America.
Third-Wave Feminism
In the 1990s, a third wave of feminism emerged. Unlike second-wave feminists, who opposed pornography because they viewed it as degrading to women and furthering a culture of male domination, third-wave feminists embraced pornography and sexual license.
Heavily influenced by the message of the sexual revolution, these daughters of second-wave feminists considered the porn-averse feminism of their mothers to be repressive. They believed sexual freedom was essential to women's freedom, and as a result, opposed any efforts to control or limit sexual activity. This caused the hookup culture to explode, especially on college campuses.
Paula England, a sociologist at Stanford University, surveyed more than 14,000 college students at 19 universities about their hookup and dating experiences from 2005 to 2010. She found that 72 percent of college co-eds reported having at least one hookup by their senior year. But a sizable number of this group, 40 percent, had between four and nine hookups, and about 20 percent said they had 10 or more.
Since 2010, however, the hookup culture has become even more prevalent due to dating apps like Tinder and Hinge. One study reported that nearly 100 million people now are using dating apps as a portal to shop for sex partners 24 hours a day. The results are chilling.
Alex, a twenty-something investment banker, told a reporter for Vanity Fair that dating apps enable men like him to "rack up 100 girls (they've) slept with in a year." Alex's friend Marty said he had slept with 30 to 40 women in the past year, but admitted he had to feign wanting a relationship to get them to have sex with him. "I think to an extent it is, like, sinister," he admitted and then mused: "Do you think this culture is misogynistic?"
Of course it is – and it's mind-numbing that women would participate in their own victimization on such a vast scale. But that is the nature of movements rooted in assumptions contrary to God's design. They promise fulfillment, but deliver pain and bondage.
Fallon, a female student at Boston College told the Vanity Fair reporter, "Sex should stem from emotional intimacy, and it's the opposite with us right now, and I think it really is kind of destroying females' self-images." A classmate, Amanda, added: "But if you say any of this out loud, it's like you're weak, you're not independent, you somehow missed the whole memo about third-wave feminism."
Despite its ravaging impact, the hookup culture continues unabated, in part because many feminists see it as essential for fulfilling the priorities of second-wave feminism. That is, career first – and love, marriage and family later, if at all.
As Hanna Rosin, author of The End of Men and the Rise of Women, writes: "(F)eminist progress right now largely depends on the existence of hookup culture. . . . For college girls these days, an overly serious suitor fills the same role an accidental pregnancy did in the 19th century: a danger to be avoided at all costs, lest it get in the way of a promising future."
Feminism's Fourth Wave and Elimination of "Gender Binary"
In the past 10 years, a fourth wave of feminism has begun to emerge, though it is so amorphous that even many leading feminists have trouble defining it. One prominent characteristic, though, is that fourth-wave feminists stress intersectionality – the theory that social identities and systems of oppression interact on many different levels.
So a fourth-wave feminist would be likely to focus on how the forces that oppress women may also interact or overlap with the forces that oppress other groups, like racial minorities or those who identify as LGBTQ.
Yet, feminism's embrace of post-modern definitions of identity may eventually lead to its complete undoing. After all, one of the major tenets of the LGBTQ community is that gender is not a biological fact, but a social construction, and that the so-called "gender binary" – the division of society into male and female – is oppressive and should be abolished.
In this new "gender-spectrum" world, it's hard to imagine how feminism – something that assumes a gender binary – would have any claim to legitimacy. It seems feminism would eventually have to be abolished along with all the other relics of the "oppressive" gender-binary world.
The irony, though, is that when society erases gender distinctions, it also erases common-sense protections of women, which then perpetuates injustice and oppression against them. For example, schools and businesses are now easing their restrictions on men in women's bathrooms and locker rooms, creating an unsafe environment. Similarly, fourth-wave feminists have helped opened the door to transgender men competing in women's competitions, which is destroying women's sports.
Beyond Feminism
Sadly many well-intentioned Christians have jumped on the feminist bandwagon, and even participated in the Women's March earlier this year. But feminism is a movement steeped in a completely anti-Christian worldview, and as a result, harms the very people it intends to help.
But that doesn't mean that the problems feminists tried to address aren't real. As the #MeToo campaign has shown, women remain prime targets of abuse and exploitation. The church needs to address these problems, but it needs to do it in a biblical way, not a godless one.
Instead of trying to encourage women to become more like men, it needs to affirm women as women, and promote womanhood (and motherhood) to a culture that largely disrespects it. And instead of using women for their own selfish gain, Christian men need to protect and respect them – and teach their sons to do the same.
A movement with these goals would do much to help women thrive and flourish. But don't confuse this movement to truly help women with feminism; feminism has done nothing of the sort.