Finding the Savior in the celebration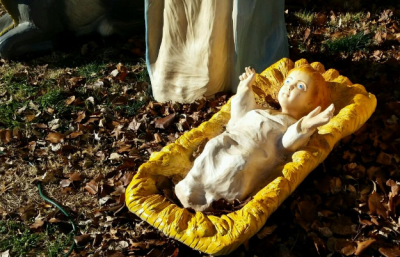 All over America, sprawling buildings formerly known as shopping malls stand like empty monuments to happier times. People have changed the way they shop, and many malls have closed. For some people, it's evocative and sad. For example, when the Rolling Acres Mall closed in Akron, Ohio, readers filled the local newspaper with memories.
One woman, Christine Curry, told of the weekend after the mall opened when she and her sisters persuaded their parents to take them. The girls, who were thirteen, twelve, and eleven, dressed up for the adventure. Their younger brother, Frankie, was four. These were safer times, and the oldest girl was officially a teenager. So the parents, wanting to do some shopping, told the girls to take their little brother and explore the mall on their own. Everyone synchronized their watches and set a time and place for meeting.
"It was so exciting," recalls Curry, who is now Akron's Director of Communications. "We went up and down the escalator first, and then we went back up to the main floor in the glass elevator with smiles on our faces. It was so beautiful! Our exploration of the mall was going well until we realized we lost the baby and we only had 15 minutes before we were to meet our parents in front of J.C. Penney. In a panic, we ran down to Sears to see if he was down there. We went to the food court. No Frankie.
"We met our parents and let them know we lost Frankie. I was shaking, my sisters were crying… I remember calling for my brother and looking in every store. My dad was furious.
"We came to the men's store just across from the glass elevator," she said, "and through the window I saw my brother vacuuming. It was a relief and also funny. My dad walks in and looks at Frankie, who gives him a big grin and keeps on running the vacuum. The sales clerk, a young man, came over to my dad and told him that he knew my brother was lost and thought it would be good to have him vacuum in front of the window so his parents could find him."
Leaving Jesus Behind
I'm glad the story ended as well as it did, but it reminds me of another issue—the danger of December distractions and the way in which our culture has lost the Baby. Sometimes it can even happen to us—His followers. We're so caught up in the razzle-dazzle of His season that we can neglect Him. The days between Thanksgiving and New Year's are tornadic, filled with a whirlwind of activities as we run between stores and shop and decorate and bake.
One woman said, "The Christmas season is my best chance to reconnect with all my neighbors, and I feel I need to bake brownies for them and drop in and encourage them. But it wears me out." Another said, "My family doesn't want to skip any of our traditions, but sometimes I get traditioned-out."
It happens to me, too. But, truthfully, we should emerge from the season, happier, stronger, and more profoundly Christ-centered than ever. There should never be a time when we're so encumbered by the whirlwind of life that we neglect our spiritual progress. I'm going to offer a few suggestions for finding the Savior amid the celebrations of Christmas. Not all of them will apply to you, but as you consider these ideas, see if you can find a thought among them that will help you have a saner season.
Seven Suggestions for a Saner Season
Go green. As I said, this one may not work for you, but I know more and more people who are bypassing gift buying and giving the gift of money. It's hard to find perfect gifts for others, and we waste billions of dollars each season on gifts that will never be used. The secret to going green is doing it meaningfully. Consider writing a personal note with words of deep appreciation, and then clip money to the note. The money may be quickly spent, but the notes are sometimes kept for years.
Say no. Donna and I receive more invitations during December than we can accept, and you probably do too. We feel guilty declining an invitation, but often there's no choice. Instead of feeling guilty, we all need to revisit the subject of stewardship. Time is our most valuable resource, and our time on earth is limited. Learn to pray over your calendar and ask God for His agenda for each day of the season.
Stay home. Along those same lines, December is a wonderful month for scheduling some extra family time or date nights or evenings alone. Order in. Light candles. Put on some music. Go to bed at a reasonable time and fall asleep thinking of the message of the angels: "For there is born to you this day in the city of David a Savior, who is Christ the Lord" (Luke 2:11).
Attend church. Has your church attendance become lax? Skipping church becomes a lifestyle very quickly. The Bible warns against "forsaking the assembling of ourselves together" and tells us we should be attending worship services more frequently as we see the growing signs of our Lord's return (Hebrews 10:25). Christmas is a great time to re-establish your church involvement. From a lifetime of experience, I can tell you that you'll be strengthened, encouraged, and restored in spirit by worshiping God in a church that preaches His Word.
Pray daily. You knew I was going to bring this up because it's the cornerstone of a healthy Christian walk. If you haven't incorporated this habit into your daily routine, Christmas is a great time to begin. Find ten or fifteen or thirty minutes a day. Turn off your phone. Open your Bible. Ask God to bless your reading, and then start where you left off yesterday. Create a simple praise-and-prayer list and use it as you talk to the Lord.
Eat less. Okay, there, I've said it. Easier to say than do—believe me, I know. But, truth be told, sooner or later most of us toss out a few tins of leftover fudge, fruitcake, and figgy pudding. By December 26 we're sick of the stuff and ready to make a New Year's resolution about losing weight. So why not toss some of it out sooner rather than later?
Thank God. The Christmas season is a great time to start a list of things you're thankful for. Have you ever taken time to thank God for the fragrances of the season and for our ability to smell the scents of balsam and ginger and cloves? Most of all, thank God for the central message of Scripture: God-now-in-flesh appearing.
If nothing else, I hope I've encouraged you to think of ways of reducing your stress during Christmas. Sometimes even minor adjustments to our routines can help spiritually prepare us to better appreciate the truth of the season: God has come to live among us. Don't lose that message in your heart. Don't let the Baby get lost in the blitz.
Dr. David Jeremiah is among the best known Christian leaders in the world. He serves as senior pastor of Shadow Mountain Community Church in El Cajon, California and is the founder and host of Turning Point. Turning Point's 30-minute radio program is heard on more than 2,200 radio stations daily. A New York Times bestselling author and Gold Medallion winner, he has written more than fifty books.