Giving thanks: A love for veterans that transcends church and state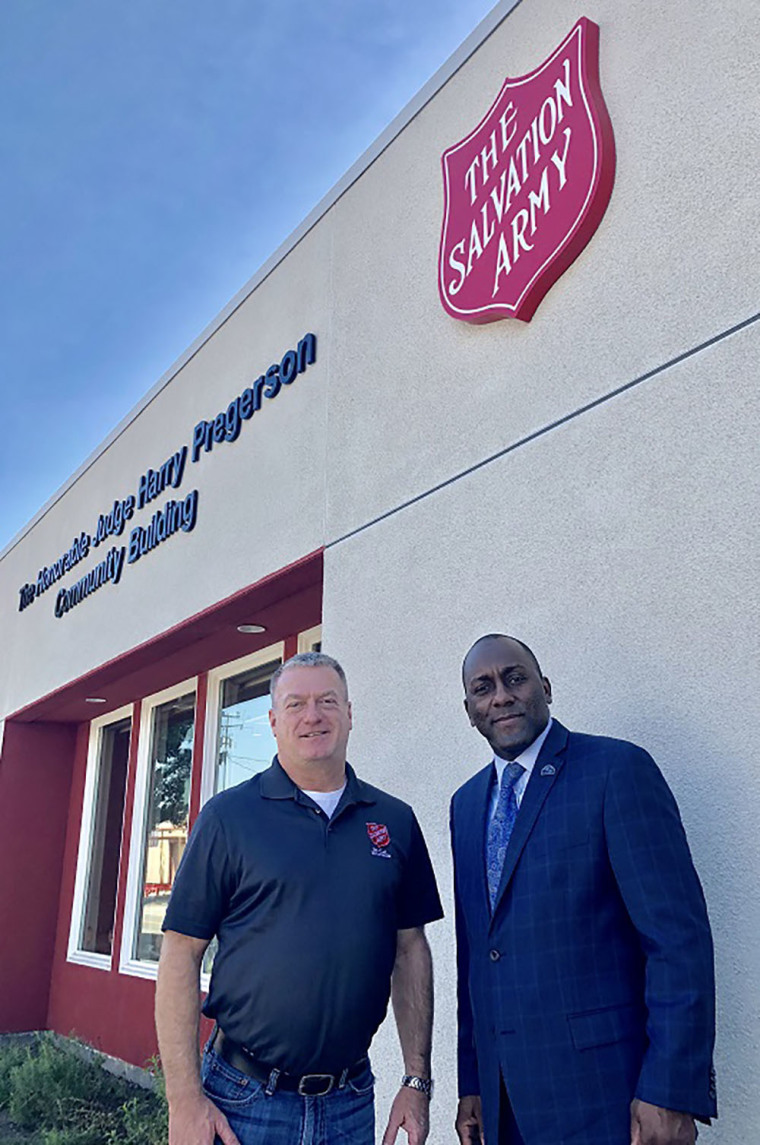 Two leaders, one from The Salvation Army Bell Shelter in Southern California and the other from the U.S. Department of Veterans Affairs' Center for Faith and Opportunity Initiatives in Washington, D.C., helped bust a myth recently that government and faith organizations must stay separate.
Earlier this month, I witnessed a huge step in the ongoing effort to provide quality support to military veterans, embracing the homeless among them, by the two agencies working together during a full morning of outreach at the shelter's new community facilities.
"Normally our faith experience and our relationship with federal agencies are separated and compartmentalized," Steve Lytle, the director of TSA's Bell Shelter, told this reporter at the event. "By contracting with the federal government to provide homeless services, we become a service provider first and often our faith takes a back seat. This event changes that and brings our faith and mission to serve in His name to the forefront of what we are doing."
And for that I am thankful.
Conrad Washington, the deputy director of the VA's CFOI, said he was thrilled to be a part of the day that included providing resources and information on benefits for veterans in areas such as health, employment and suicide prevention.
"We've (CFOI) been in existence since 2004, [beginning] during the Bush administration. But it somewhat seems like now we're getting more publicity," Washington said. "There are 13 other centers of faith in the federal government within other agencies. The Department of Veteran Affairs is the second largest federal agency. That being said, we have a lot of resources that we bring to the table."
It is exactly that. The attitude that faith and resources can bring solution. It is God's endless provision of solutions to seemingly hopeless situations that we can "bring to the table" when we extinguish our fear of being politically incorrect and instead, live out our faith in Jesus.
"And he will answer, 'I tell you the truth, when you refused to help the least of these my brothers and sisters, you were refusing to help me' — Matthew 25:45."
It is clear that there's an increase in suffering within the veterans community by reading not only the most recent statistics but national news-making tragedies.
Today, veterans of all sorts and of many wars, are a huge community of the "least of these." And they need our help.
Lytle and Washington are field generals in a different kind of war zone that's becoming more apparent to people but not enough. It's a war for the souls of men and women who've served their nation in sacrifice.
Now is not the time to put the light of Jesus within us in a locked drawer.
Washington said that working as the director of CFOI and the collaboration with TSA are special to him because "first, I'm a retired combat Marine." He served active duty for 20 years, between 1989 and 2009.
"I went to Iraq in 2004, the 3rd Battalion Fourth Marines out of 29 Palms (Marine Corps Air Ground Combat Center)," he said. "So I can relate to what veterans experience and what they're going through as a veteran and as a combat veteran."
Washington, who is an associate minister at the Word of Life Christian Church in Woodbridge, Virginia, added, "When I had an opportunity to work in The Center for Faith (within the VA) and extend opportunities and benefits to my fellow veterans, it was a no-brainer for me.
"This is in line with my calling, as we would say."
Lytle is grateful for Washington and said the outreach event was "a unique opportunity to carry out The Salvation Army's mission in partnership with our VA partners, and to proclaim our faith which uplifts the work we do every day as we love and support our neighbors who are experiencing homelessness.
"On a personal level, I loved seeing the joy in the eyes of our Veteran participants when they saw how much everyone at the VA, The Salvation Army, and all our partners on this event love them as they are, and want to share God's blessings with them."
I'm grateful and give glory to God for men like Lytle and Washington, who push beyond the leanings and pressures of many to succumb to misguided premises, lean not on their own understanding, but seek God's will in all they do.
Thank you.
Alex Murashko s a journalist and founder of Media on Mission, an initiative to bring awareness to another side of media you may not have heard about.