Optimistic Outlook for the Christless: A Report by the 2018 Alliance for the Unreached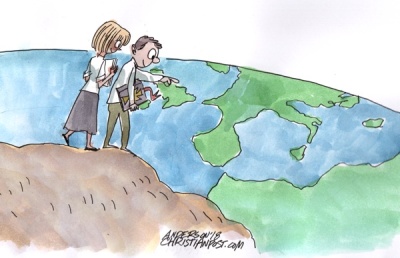 Anyone who has planned a trip of some distance knows it's important to check in along the way to be sure they are still on course, and that is especially true for the church on her long journey to the ends of the earth.
That is where Jesus told his followers to take the good news when he gave them the Great Commission 2,000 years ago, of course, and I'm encouraged by evidence that the worldwide body of Christ is adjusting her steps to get where she needs to be.
The positive response to this year's third annual International Day for the Unreached (IDU, www.dayfortheunreached.org), championing greater missions focus on those who have yet to hear the gospel, suggests a growing awareness of the importance of redirecting some of our efforts.
The IDU campaign has been a wake-up call for many, like the person who told us after this year's May 20 event: "I was shocked to realize that for the billions of unreached people, there are only a few thousand missionaries on the planet that are focused on reaching [them]... Do the math. That is an impossible task..."
Thousands of Christians around the world joined our live-streamed event, to be challenged by the need and inspired to play a part in taking the good news to some of 2 billion-plus people who have not yet been told about Jesus.
Reasons for optimism
As a result of this year's campaign, the organization I lead, World Mission (www.worldmission.cc) and the 10 other members of the organizing Alliance for the Unreached (www.dayfortheunreached.org/about/partners) have seen an increase in the number of churches and like-minded mission agencies requesting our resources. Our website offers a wide range of free infographs, videos, bulletin inserts and other materials.
These are intended to be part of inspiring a much-needed change in missional mindset that will address the great discrepancy in how missions resources are being allocated. Currently, well over 95 percent of all the existing prayer, workers, and finances are going to places that either are already reached or that have a strong gospel witness.
Meanwhile, less than 1 percent of the church's mission resources go to places where people have yet to hear the gospel for the first time—with 70,000 of them passing into a Christless eternity each day.
Yet, there is reason to be optimistic. We have all the resources necessary to complete the task Jesus left us with in Mark 16 and Matthew 28—we just need to redirect them.
Helping fuel that shift has been the campaign's well-received emphasis this year on reclaiming the true meaning of the word "unreached." Over the years, it has increasingly been used for missions activities that, while worthy, are not truly focused on people groups where there is no gospel witness, regrettably diluting the urgency of the task.
Finding your place
Another positive sign from this year's campaign has been welcoming three new alliance members who each bring a distinct focus in their response to the Great Commission. We have gained interest in our vision because individuals and churches realize it is not some kind of stand-alone initiative, but rather a growing movement that credible agencies are championing.
With their distinct, strategic areas of focus and activity, the various alliance members also illustrate the diversity of calling and gifting that is needed to fulfill the Great Commission: every Christian has a part to play. That means there is somewhere your unique passions and interests can be expressed.
Whether it is children, Muslims, Hindus, Asia, nomadic people, humanitarian efforts or Bible distribution, there is an agency within the alliance for you to connect with. And if you do not have a particular burden, one alliance member, Joshua Project (www.joshuaproject.net), has a vast library of people group information to help you learn more.
At World Mission, we distribute solar-powered audio bibles (The Treasure) in hundreds of languages to oral learners living within unreached people groups. Recently a monk from one of the largest unreached Buddhist peoples in the world was given a copy in his language.
He hated Christians and wanted nothing to do with that "Western religion." But he was drawn to the stories in the New Testament and listened to it in its entirety—twice. The good news deeply touched his heart, causing him to proclaim joyfully, "This is the truth!" After 25 years searching for deeper meaning, he discovered the Prince of Peace and surrendered to Jesus.
That kind of impact is only possible through the power of God, which is why we hold the International Day for the Unreached each year on Pentecost Sunday—the day on which the Holy Spirit fell upon the members of the early church, empowering them to fulfill Jesus' call to go into all the world.
Because Jesus gave the Great Commission to all his followers, we need your participation! Pray to the Lord of the harvest to send forth the laborers into these unreachable fields (Luke 10) and then ask God to show you your part in our journey to the ends of the earth.
Greg Kelley is CEO of World Mission (
www.worldmission.cc
) based in Grand Rapids, Mich. Its solar-powered audio Bible (The Treasure) is available in 6,000 languages, with more than 1.5 million illiterate and oral-learning Muslims, Hindus and Buddhists currently participating in listening groups. World Mission's Zoe Waters ministry is focused on providing clean water to those in the most vulnerable locations of the world.