The Paris Church That Doesn't Want You Using Your Camera
This church does not allow the usage of a camera.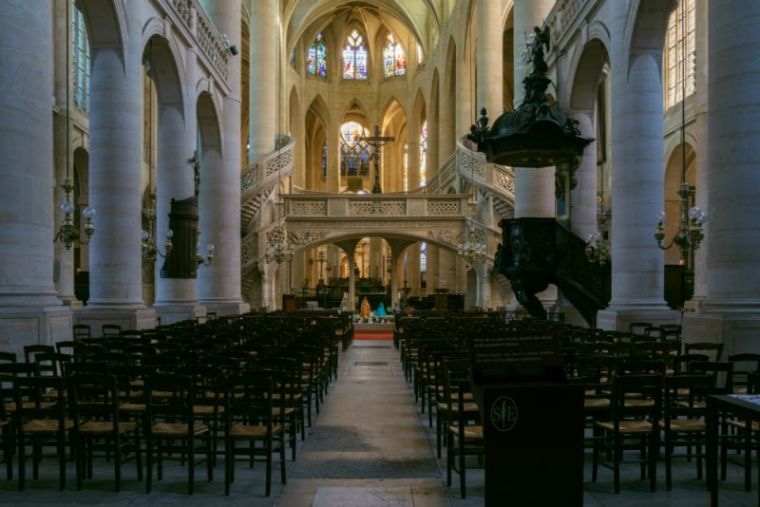 In last week's Spires and Crosses column, I wrote about the Roman Catholic bishop who complained when every church he went to visit was locked up.
Anyone who enjoys visiting old churches has had this experience. Less common, however, are churches that are actively hostile to visitors taking pictures.
Some churches ban flash photography. Others — Peterborough Cathedral, known for its early 16th century fan vaulting, and London's Southwark Cathedral — have free admission but require visitors wanting to use their camera to pay the equivalent of $1 or $2.
Until now the only church that was a no-go zone for photographers was St. George's, the historic Anglican colonial-era church in Malaysia. That's no longer the case, as a second church is now on my list.
When in Paris for Christmas last month I finally got inside of the Église Saint-Étienne-du-Mont.
The Église Saint-Étienne-du-Mont, or, in English, the Church of St. Stephen of the Mont, is in the Latin Quarter on the Left Bank and faces the rear of the Panthéon. It's maybe 10 minutes by foot from the Cathédrale Notre-Dame de Paris.
Having been built over a roughly 30-year period in the late 15th and early 16th centuries the architecture is a blend of Gothic and Renaissance styles, not unlike some other Parisian churches of the era.
The architecture may be interesting, but the real draw is inside.
As soon as you enter from Place Sainte-Geneviève, or St. Genevieve Square, you see it — the magnificent Renaissance-style rood screen.
The rood screen, which is perhaps the finest example of its era, spans the entire width of the nave between the north and south walls and includes a loft. In medieval days it would have been common for choristers to sing or priests read the gospel from aloft.
While once common original medieval rood screens are rare today.
In Britain, most were removed or destroyed during either the Reformation or the English Civil War. In France and elsewhere on the European continent, they were generally removed after the Roman Catholic Church's Council of Trent launched what is known as the Counter-Reformation.
Perhaps even more incredible about the rood screen at St. Stephen of the Mont is the fact it survived the French Revolution, when churches were desecrated and Catholic worship was suppressed.
But back to my experience.
The only visitor access restriction was no flash photography, according to the sign at the entrance. As I said earlier, this prohibition isn't unusual.
So, I proceeded to walkabout until finding a spot to take some pictures. I then setup a tripod and mounted my camera. Within a minute or two an unknown worker came over to me saying I couldn't take pictures.
I asked him why. He said it was because of the tripod. I tried engaging him in a discussion, but his English wasn't great. So I asked if there was someone else I could speak with to get permission. He proceeded to take me through the church, around the ambulatory and into a back office.
The priest was gone, I was told, but his secretary was working. She didn't speak English, or at least that's what she claimed. So I told him I was a journalist and asked him to translate. He did, but it didn't work as she shook her head and kept saying "non," or French for no.
Both of them had made their minds up and there really was no point in persisting. I politely left.
Here's the thing. If St. Stephen of the Mont had a sign saying tripods were prohibited then I would understand. But it didn't. Only flash photography was banned, which itself is pointless because photography doesn't really damage art.
It also didn't help that the staff enforcing this supposed prohibition didn't speak good enough English to communicate with me.
Yes, I know it's France and the French speak French. However, the handful of visitors I observed while at St. Stephen of the Mont were all foreigners.
If you're a tourist attraction — and yes, historic churches are attractions for tourists, religious and secular — you should either have at least one staff member who can speak English or post a sign with visitor access rules translated into English.
Spires and Crosses is published every week.
Dennis Lennox writes about travel, politics and religious affairs. He has been published in the Financial Times, Independent, The Detroit News, Toronto Sun and other publications. Follow
@dennislennox
on Twitter.