2 things that should be stable in a turbulent world (part 3)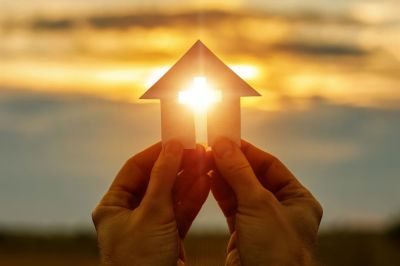 There are two "houses" where a world in turbulence should be able to find security and stability — the "house" of the church, and the "house" of the home.
These are potentially the two greatest stabilizing institutions in society, but, sadly, they too are often in turmoil. This is because they are the biggest of threats to the chaos-stirring satanic powers of darkness, and hence the biggest of targets.
However, unsteady churches and homes cannot steady societies in upheaval.
But where does a church find the bedrock stability that can bless a nation and the families within it?
An event on July 11, 1926, gives the clue. On that day a Los Angeles pastor spoke to a gathering of young people. The minister, James Allan Francis, pastor of First Baptist Church, Los Angeles, was deeply concerned about the world in which those youth were coming of age. Writers like F. Scott Fitzgerald characterized the period as "hedonistic, an age of excess and opulence," a season with a "dazzling sense of wildness." [1]
The slaughter of the First World War still haunted the nightmares of a rising generation. The beasts that had stoked that conflict was already planning for the next. In America, an overheated economy was about to collapse into the Great Depression, which would hurl people into poverty and some of the richest literally off ledges. The misery would affect the world. Still, many saw the 20s as a time to cast off restraint and plunge into the whirlpools spinning across the nation.
Labor and management were in increasing conflict. The battle between races intensified. Deep southern forests were haunted by white-robed racists who were hanging human beings and going to prejudicial extremes to keep the "wrong race in their place."
Meanwhile, many white southern churches were sanctioning such behaviors.
But also, influential voices in the 20s announced that the Church was outmoded, irrelevant for such a liberated era.
Pastor Francis' own city of Los Angeles would play a major role in the bending and twisting of the culture that would someday bring destructive force against personal morality, the stability of homes, and the worldview that had produced the freest, most prosperous nation in history.
All this could have been in Pastor Francis' heart and mind as he scanned that room full of eager young people in 1926. The caring pastor spoke of the "One Solitary Life" that could be the anchor for church, home, governance, education, economy … everything.
So, Pastor Francis began by speaking of a "baby born in an obscure village" and raised in "another obscure village, who labored as a carpenter for more than 30 years, and then spent three as an itinerate preacher…
"He never writes a book … never holds an office … never raises an army … never has a family of His own … never goes to college … never travels 200 miles from where He was born … He gathers a little group of friends about Him and teaches them the way of life … While He was a young man, the tide of popular feeling turns against Him … One denies Him, another betrays Him … He is turned over to His enemies … He goes through the mockery of a trial … He is nailed to a cross between two thieves … laid in a borrowed grave … He rises from the grave."
Pastor Francis moved to his conclusion: "All the armies that have marched, and all the parliaments that ever sat, all the kings that ever reigned have not affected the life of man on this earth as much as that one, solitary life."
Almost a century later, Pastor James Allan Francis' statement still rings with truth — perhaps even more. And the words ring back through the New Testament's preeminent church planter, the Apostle Paul, who declared that "no man can lay a foundation other than the one which is laid, which is Jesus Christ" (1 Corinthians 3:11).
Jesus is the "rock" upon which the church can be stable and steadied. As never before we must make the confession of Simon Peter: "You are the Christ, the Son of the Living God!" (Matthew 16:16).
The tribulations of the 1920s are minor compared to the present and looming turmoil ahead. Only the radically Jesus-centered Church has staying power and will be able to minister effectively in such a situation.
I have tried in previous columns (see here and here) in this series to go into detail about the nature of the Jesus church, based on the New Testament Church, but recognize that I have only scratched the surface — if that.
Many churches and denominations now are woefully unstable. They settle on one strategy and style. And then when hoped-for increases don't come, gravitate over to another. Imbalances develop between form and frenzy, intellectualism, and emotionalism. Too many of us in the efforts to establish some level of accommodation with the present passions of the secular society are "tossed to and fro by destructive winds of doctrine" (Ephesians 4:14)
Practically, this means being Jesus-centered in worship, proclamation, discipleship, strategy, and ministry.
It was indeed that "one solitary life" that transformed the world more than armies, navies, parliaments, and all the other mighty institutions that can have a stabilizing impact on the present and coming turmoil.
Wallace B. Henley is a former pastor, daily newspaper editor, White House and Congressional aide. He served 18 years as a teaching pastor at Houston's Second Baptist Church. Henley is author or co-author of more than 25 books, including God and Churchill, co-authored with Sir Winston Churchill's great grandson, Jonathan Sandys. Henley's latest  book is Who will rule the coming 'gods'? The looming  spiritual crisis of artificial intelligence.