We cannot claim to be civilized so long as we act like barbarians killing babies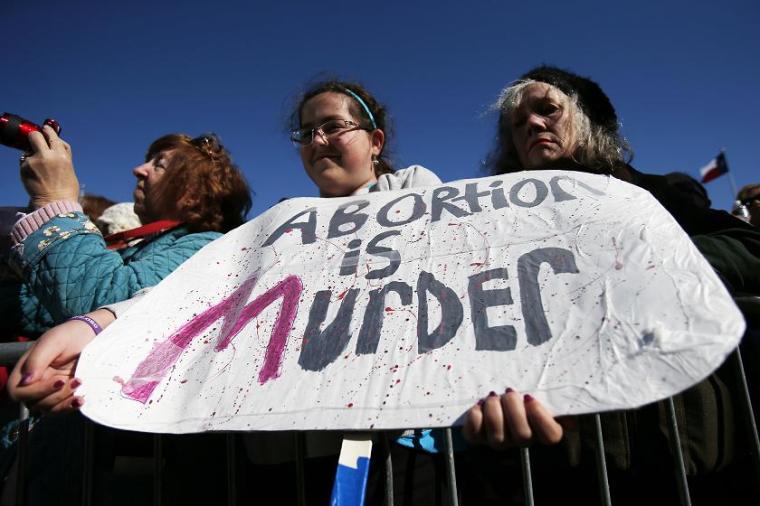 Abortion and infanticide gauging the value of a human life on such utilitarian criteria as "capacity," and "viability" of a baby, are playing with "hell fire."
Jesus said that "whosoever shall say to his brother, Raca, shall be in danger of the council: but whosoever shall say, Thou fool, shall be in danger of hell fire" (Matthew 5:22)
"Raca" comes from a root word meaning "to spit." It means "empty" and "worthless" to the extent it deserves to be spat upon. "Fool," moros ("moron") in the original Greek, refers to someone as "silly" and "stupid." These two terms used together express a level of contempt that is "utter vilification," according to The Hebrew-Greek Study Bible.
A person speaking "Raca" (in some form) against another — especially one's own kin — is in danger of the "council," says Jesus. But those evaluating a person as a "fool" are in danger of the judgment of Hell. Any human council — like the Sanhedrin in the era in which Jesus spoke — can judge based on external behavior. However, only God can judge the internal motives. "Hell fire" is the biblical expression for the perfect justice of God that must come if there is no repentance.
History is replete with examples of how people have rated human beings made in God's image as "worthless." Slaves were killed or allowed to live based on their capacities for work. Women were judged in some cultures as having worth in proportion to their abilities to serve men. Prior to labor reforms the value of workers as human beings was sometimes determined by how hard and long they worked, and how much they produced.
The ancient Canaanites were and are infamous for their sacrificing of children to their idol, Moloch. Even in later antiquity, people living in Jerusalem would take handicapped or "inconveniently born" (unwanted) babies to the Gehenna ravine, and hurl them into the fires that burned there continually, along with all the other refuse.
Archaeologists were shocked recently while digging at a site near Poggio Civitate, an ancient Etruscan town in Italy. The diggers found human infant bones scattered around, dating back 2,500 years. Anthony Tuck, a member of the team from the University of Massachusetts, said the tiny skeletal remains were "simply left on the floor ... or ended up in an area with a heavy concentration of other discarded remains of butchered animals."
Throw-away babies.
The attitude of the worthlessness of some human beings continued after the Etruscans, into the Roman Empire. A letter is preserved from a man in Alexandria named Hilarion, written in "the 29th year of Caesar," to his wife in Rome. "I beg and beseech of you to take good care of the little child ... if it is a male, let it live; if it is a female, expose it," writes Hilarion.
That meant throw away the girl-baby because she was judged as worthless.  
In modern times, the appraisal of human value is made in abortion chambers about 3,500 times a day in the United States.
Nowhere today are the "Raca-moros" pronouncements more starkly made than in the abortion industry. In principle, and despite the U.S. Supreme Court, abortion should be recognized as unconstitutional, since it deprives an infant of the fundamental right to life. Abortion and infanticide are also anarchic because they violate the higher Law that stipulates, "You shall not murder."
Yet the killing continues because unborns and newborns are deemed "worthless" or not "viable."
Hence ethicist Peter Singer, an atheist, apparently sees no inherent value in a human being. In his view, the right to live is based on function. Singer writes in his book, Practical Ethics, that "the fact that a being is a human being, in the sense of a member of the species Homo sapiens, is not relevant to the wrongness of killing it; rather, it is characteristics like rationality, autonomy, and self-consciousness that make a difference ... the potential of a fetus to become a rational, self-conscious being cannot count against killing it at a stage when it lacks these characteristics."
Francis Crick and James Watson, credited with the discovery of DNA, suggested a baby should not be considered as alive until three days after birth.
Another atheist, Sarah Irving-Stonebraker, heard Singer speak at Oxford University, and wrote about the impact on her personally. "Singer recognized that philosophy faces a vexing problem in relation to the issue of human worth," she wrote. However, "without reference to some set of capacities as the basis of human worth, the intrinsic value of all human beings needs to be agreed upon before any conversation can take place."
Irving-Stonebraker was so disturbed by Peter Singer and other experiences at Oxford that it turned her from atheism to Christ. The title of her article, appearing at veritas.org: "How Oxford and Peter Singer drove me from atheism to Jesus." She is now a tenured senior lecturer in modern European history at Australia's Western Sydney University.
Thank God for professor Irving-Stonebraker, and those like her, who think about the deeper meaning, and especially the spiritual implications of abortion and infanticide, and have the courage to speak.
Our civilization is supposed to be advanced beyond the barbarians of antiquity, but we are not as long as we rate unborns and newborns as "raca-moros.
Wallace Henley is senior associate pastor at Houston's Second Baptist Church, and Chair of Belhaven University's Master of Ministry Leadership degree. He is a former White House and Congressional aide, and co-author of "God and Churchill", with Winston Churchill's great-grandson, Jonathan Sandys.