Genocide killer turned 'prophet' led thousands of Rwandan prisoners to Christ and repentance 
Two families become one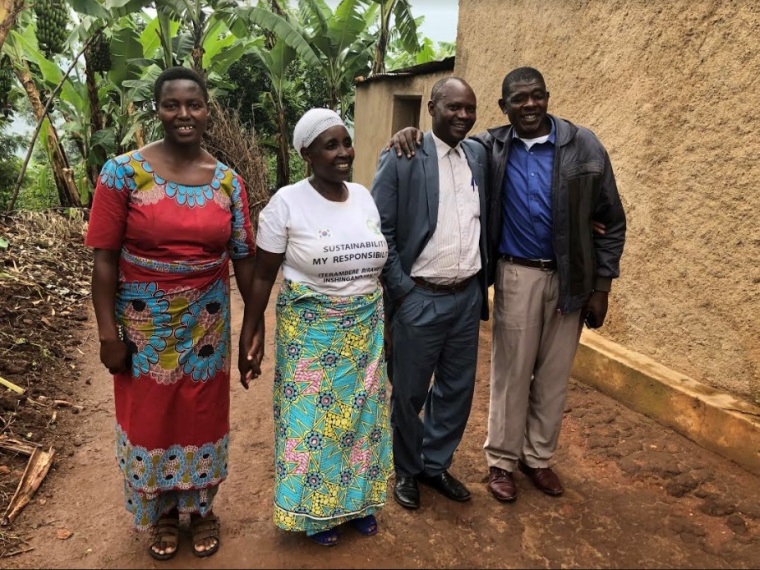 Andrew and Callixte's children saw the change in their parents' relationships and also grew closer to one another.
Callixte's first-born son, Mizero Jean d'Amour (now 23), and Andrew's third-born, Chantal Irabaruta (now 22), grew insuperable.
As they went to school together, they would always try to sit next to each other in class.
"One would always be next to the other," Callixte explained. "They are so close that their love surpasses any love between a man and a woman."
Speaking with reporters in Andrew's home, the two couples were happy to announce that their children are planning to get married after they finish with college.
"For us, we are very happy with the fact that we both live together well as families and that people have come from far and wide to see us.
This meant that the two couples that used to be bitter enemies will one day become in-laws.
"As a family we support their plans and we would like to invite all of you to the wedding," Andrew told reporters. "We keep saying that it is God who did this. With [just] human strength, this would not have been possible at all."
Callixte's prophecy
Because of their story, World Vision invited both Andrew and Callixte a few years ago to travel to Chicago to share their experiences. They were both excited for the opportunity.
World Vision paid for Andrew and Callixte to stay in a hotel in the capital city of Kigali prior to their flight. But in Kigali, Callixte said he got a vision from the Holy Spirit telling him that he would not be able to go on the trip to Chicago.
He told Andrew about the vision and Andrew was not happy because he thought that meant that he would not be able to go as well. But Callixte assured Andrew that he would indeed go on the trip.
"When I kept praying, God would tell me that I am not going to go," Callixte explained.  "We kept on praying while at the hotel to see if God was OK with us going. When he got his Visa and I didn't get mine ... I was at peace because God told me that I wouldn't get to go."
Callixte additionally told Andrew that he bring a gift back for him. That is exactly what happened, the men say.
Andrew went on the trip and received two gifts. Andrew himself received a synthesizer. He was also given a new guitar to bring back to Callixte. The new guitar was much better than the one that Callixte had already owned.
"It helped Callixte improve and work on his music career," Andrew said.  "He is [now] invited to different places to play the guitar."
According to Callixte, many Rwandans believe that Christians musicians may also be prophets.
"I have both of those gifts. God gave me discernment," Callixte said.  "I am sometimes able to see something before they occur. Sometimes I can do that for others as well and tell you about your prophecy."
Andrew told the journalists that he ended up giving the synthesizer to the local church in their village. He added that the synthesizer helped the church to grow.
"People became more and more interested with a musical instrument and even more people get saved," Andrew said.
The two families became a model for reconciliation and others wanted to learn from them and hear their story. 
"For us, we are very happy the fact that we both live together well as families and that people have come from far and wide to see us," Madrine, a mother to seven children, said.