'High hopes': Evangelical leaders react to Israel's new prime minister
Christian Zionists call for prayer, support of new gov't
Jentezen Franklin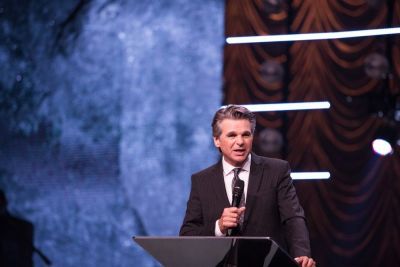 Jentezen Franklin, a Georgia pastor and Christian Zionist, also congratulated Israel on forming a new government.
He reiterated the Christian community's excitement to build a "congenial relationship" with the newly established government and "new era of Jewish-Christian friendship."
"I want to congratulate the State of Israel on the formation of its new government, and I call on Christians around the world to pray for God's help as they fulfill their responsibility, especially in ensuring the security of the State of Israel," he wrote. 
"Prime Minister Naftali Bennett, along with Yair Lapid, have formed a coalition unique in Israel's history and in its diversity," Franklin continued. "I want to make it clear: our community looks forward to enjoying an open and congenial relationship with the new government in Israel as we have enjoyed an open relationship with its preceding administration."
Franklin added that Netanyahu "deserves credit for his extraordinary efforts which have strengthened the Israeli economy, built expansive friendships around the world, and forged peace and security throughout the Middle East."
"Prime Minister Netanyahu's handling of the coronavirus pandemic also became the envy of the world," Franklin added. "Bibi has not only been one of Israel's longest-serving prime ministers but one of its historic leaders. Evangelicals are proud of our friendship with Netanyahu, a friendship that will continue."