10 Interesting Things to See at the New Museum of the Bible: Sneak Preview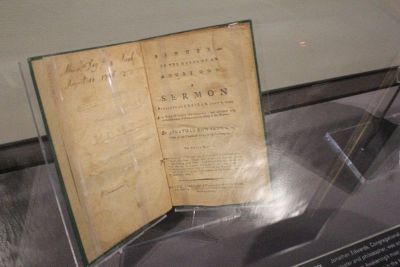 8. Whitefield and Edwards' sermons
The Museum's "Impact of the Bible" exhibit also includes published sermons from leaders of the Great Awakening, such as George Whitefield and Jonathan Edwards.
Whitefield was an Anglican priest from England who traveled to America during the 18th century and encouraged people to seek salvation through Christ.
One published sermon on display at the museum is Whitefield's "The Marks of the New Birth," which was preached at the Parish Church of St. Mary, White-Chapel in Lancaster, Pennsylvania, in 1739, according to the museum.
"This is considered one of Whitefield's greatest and most successful sermons. During his revivalist career, he delivered it many times. Whitefield focused on spiritual conversion rather than righteous works, so 'that your Sins may be blotted out.'"
The exhibit also includes a published version of Edwards' 1741 sermon, "Sinners in the Hands of an Angry God."
According to the museum, the sermon is Edwards' best known sermon and "describes in vivid detail the tortures of hell that await unrepentant people."