'13 Hours: Secret Soldiers of Benghazi' Movie Review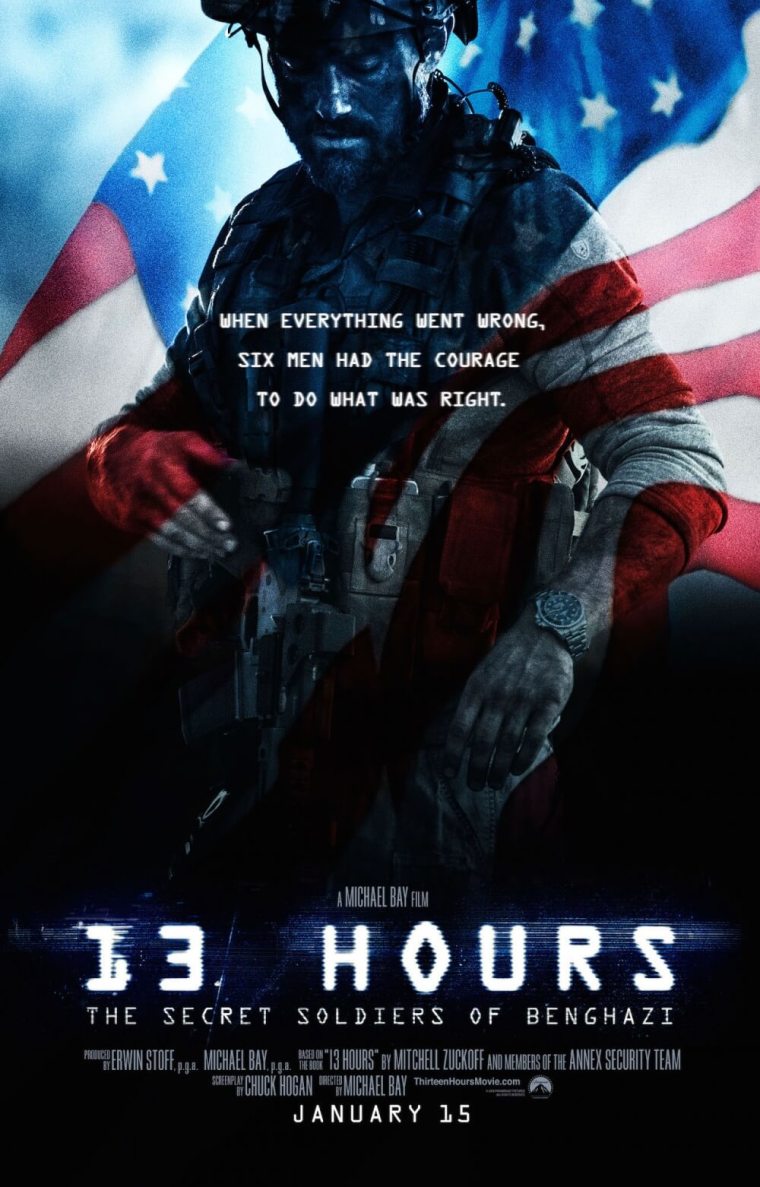 A few minutes of calm have yet to pass before a multitude of guns serve as a reminder that you have entered a war zone.
"Welcome to Benghazi," James Badge Dale ("World War Z," "Iron Man 3") says in the gripping opening scene of "13 Hours: The Secret Soldiers of Benghazi."
Aside from the explosions, witty banter and non-stop action that can be expected from a Michael Bay ("Pearl Harbor," "Bad Boys," "Transformers") project, the director's latest film evokes a range of emotions absent from many action movies. But this is not your typical action movie.
While international media reports captured the horrific aftermath of the terror attacks on the U.S. Consulate and CIA Annex in Benghazi, Libya, on Sept. 11, 2012, which left four Americans dead — U.S. Amb. Christopher Stevens, Navy SEALs Tyrone Woods and Glen Doherty, and State Dept.computer expert Sean Smith — author Mitchell Zuckoff revealed new details about that night from the perspective of those who survived the attack in the 2014 book,13 Hours: The Inside Account of What Really Happened in Benghazi.
Chuck Hogan turned the book into a screenplay and detailed the events that took place on the ground based on the accounts of the CIA contractors who risked their lives to save Americans working at the State Dept.'s Special Mission Compound.
While the film does not mention former Secretary of State and Democratic presidential hopeful Hillary Clinton, who later took responsibility for the U.S. government's response to the terror attacks, a number of people have questioned how a film about the death of Americans under her tutelage could affect her campaign.
"Benghazi has become such a lightning-rod issue for Clinton that some of her supporters may want to avoid the film entirely, at least initially," The Hollywood Reporter wrote in their review.
Instead of taking a political stance on such a hot button issue, "13 Hours: The Secret Soldiers of Benghazi" solely focuses on the hours leading up to the U.S. consulate attack and the response by the six security contractors who went in to save Stevens and other Americans at the CIA Annex.
In the film, Bay's usual breathtaking pyrotechnics don't overshadow the gritty emotions brought to life by actors whose names don't usually headline blockbusters. John Krasinski ("The Office"), Max Martini ("Saving Private Ryan"), Toby Stephens ("Die Another Day"), Pablo Schreiber ("Orange Is The New Black"), David Denman ("The Office"), and Dominic Fumusa ("Nurse Jackie") give top notch performances that rival many A-list actors.
The actors were aided in their performances by Marines Mark "Oz" Geist, John "Tig" Tiegen and former Army Ranger Kris "Tanto" Paranto who were among the six CIA contractors who inspired the movie and were on hand to help the cast and crew get as close to the real thing as possible.
The film seems to be Bay's most serious body of work, and during a press conference attended by The Christian Post in Miami last week, the director revealed that there was a sense of urgency to get it right. It seems Bay left behind the glitz and glamour of Hollywood superficiality to transform himself into a multi-faceted director who can engage people with a great plot and mind-blowing special effects that force people to relive the tragic events that changed lives forever.
While "13 Hours: The Secret Soldiers of Benghazi" does not contain sexuality, the coarse language and strong graphic violence expected in films about war and terrorism are peppered throughout the movie, which earns its "R" rating. Despite the harrowing circumstances, audiences will have an opportunity to laugh, cry and cheer during the edge-of-your-seat thriller that may hit an emotional nerve for some and inspire others.
Entertainment rating: 4 out of 5 stars. Family friendly rating: 2.0 out of 5 stars.