2016 Election a 'Colossal, Miserable, Disgusting Failure' of Conservatives, David French Laments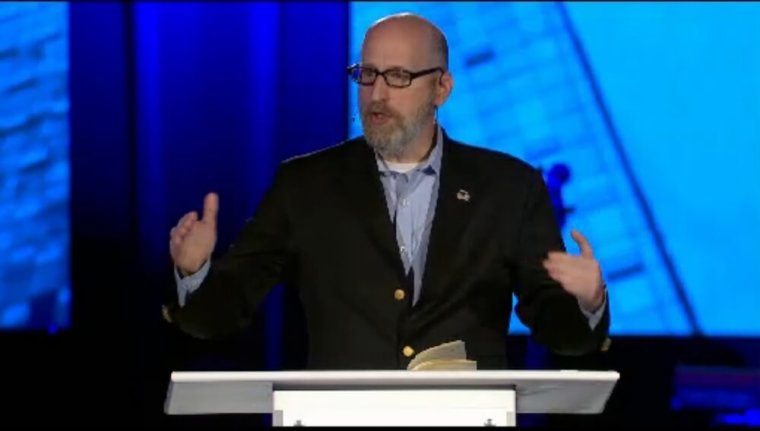 David French, a staff writer at National Review, delivered the keynote address Saturday at a Southern Baptist-sponsored national conference on cultural engagement, calling this year's election cycle a "colossal, miserable, disgusting failure" as voters will have to choose between Donald Trump and Hillary Clinton.
People are angry about a judicial system that is "turning its back on religious liberty," an "increasingly lawless" federal government, the Department of Education's notion of what gender identity means, and a foreign policy that has led to the rise of Islamist jihad, said French at the Ethics & Religious Liberty Commission's 2016 national conference held at the Gaylord Opryland Resort in Nashville, Tennessee.
There are millions of others who are mad, too, but not necessarily because of these positions, added French, author of the No. 1 New York Times bestselling Rise of ISIS: A Threat We Can't Ignore. They are angry perhaps because of where they are in life, because their lives are not good enough, they have personal problems, they don't have good economic prospects, and so on. And they don't feel connected, he said, as he talked about reasons for the failure of the conservative movement.
"We took opposition in anger and mistook it for a coherent philosophy," added French, who earlier considered joining the 2016 presidential race as the anti-Trump candidate, at the ERLC's third National Conference titled, "Onward: Engaging the Culture Without Losing the Gospel."
It's the people who feel disconnected who are supporting Trump, as they were looking for answers, he continued. Those who felt they were part of a community chose not to support him, said French, an expert in constitutional law and the law of armed conflict.
"We substituted a set of policies for just a dude," as if he alone could change our lives, he added. "How? No idea. No clue."
The rage among Americans is based on both legitimate and not-so-legitimate reasons, he said.
Most Americans are politically ignorant as well, French, a graduate of Harvard Law School, went on to say.
Then he blamed the failure of the conservative movement partly on Fox News. The success of Fox News is due to the death of the ability of conservative Christians to reach the wider, larger culture, he explained. Success in the community is defined by Fox appearances, he said.
Politics is a sub culture, he continued. If you are politically famous, that means you are not famous, but if you're "Fox famous," that's a "career path." Fox priorities became movement priorities, stressed French.
The electorate is also lazy, because we have taught them to be so, French told the crowd. We have told them that if they want to protect religious liberty, they should vote for a candidate who will protect it, which is "to delegate the fight to somebody else."
We should instead be "empowering people to fight for themselves," he emphasized. They need to be activists on the ground, he explained.
We can no longer afford to be "the cheapest date in American politics" French said.
"It's bad, but in American history it's been worse," he added. "In American history when it's been a lot do you know who has helped bring America back? ... It's been courageous men and women empowered by the spirit of the living God — that's what brings us back. It's not politics."
"We cannot tie ourselves to one political party," French said, and added that he was saddened when he was told he must support Trump because the billionaire businessman would appoint Supreme Court justices who are conservative. "It was one of the saddest things I have ever seen in my entire life. That's what happens when you hitch your wagon completely to one side. Whatever scraps they will give you will be better than the nothingness that you get from the other side."
The national conference seeks to help believer be "equipped to take the unchanging truths of the Bible and engage the shifting culture around us." The speakers included Russell Moore, Matt Chandler, Andy Crouch, Bryan Loritts, Andy Stanley, Jackie Hill Perry and Gabe Lyons.