Athletes and sports teams give thanks to God in Tokyo: 'Leave it in His hands'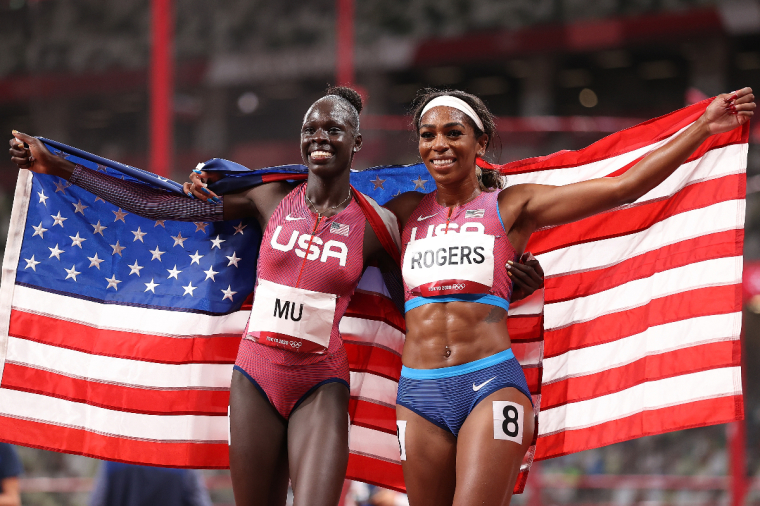 Athing Mu and Raevyn Rogers
Athing Mu, who won a gold medal for Team USA in the 800-meter dash Tuesday, praised God after becoming the first American woman to win the event since the 1968 Summer Olympics in Mexico City.
"God definitely took the battle for this one!" she tweeted shortly after her victory. "So, thank you Lord!"
Mu's faith is displayed prominently on her Twitter page. She wears a cross in her profile picture and retweeted one of her teammates, who gave thanks to God before she was set to compete in the same event as Mu. 
On Saturday, Olympic runner Raevyn Rogers sent out a tweet proclaiming that "I made this final for a reason. It's all according to His plan, and I know it will be revealed." Rogers secured a bronze medal for the U.S. in the 800-meter dash three days later.
Like Mu, Rogers uses her social media platform to profess her faith, with her Twitter biography reading "Led by His guidance," accompanied by an emoji of praying hands.
Mu, a student at Texas A&M University, elaborated on her faith in an interview with her college's student newspaper, The Battalion, in June. She discussed the importance of Deuteronomy 28:13, which reads, "The Lord will make you the head, not the tail. If you pay attention to the commands of the Lord your God that I give you this day and carefully follow them, you will always be at the top, never at the bottom."
"As a follower of Christ, our main goal is to live in the image of Jesus in order to connect to God and 'get' to God," Mu asserted. "I believe when God is ready to give you blessings, He gives it to you with all intentions. In this case, 'keeping one at the top, never at the bottom.'"