4 Times Celebrities Honored God at the 2017 BET Awards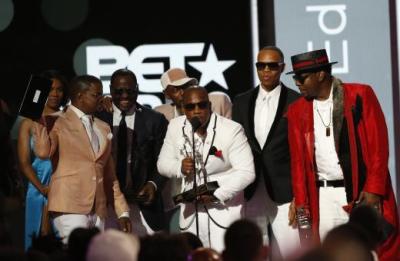 Countless celebrities have thanked God after receiving BET Awards throughout the years and Sunday's 2017 BET Awards celebration was no different.
The Christian Post is highlighting some of the moments where God was honored in speeches and messages shared with fans before and during the awards show.
1. New Edition's Lifetime Achievement Award
For the better part of 7 minutes, the veteran R&B group New Edition showcased their reverence for God when accepting their Lifetime Achievement Award at the 2017 BET Awards. After 35 years as a group, Ronnie DeVoe started his acceptance speech by thanking God that he, Bobby Brown, Johnny Gill, Ralph Tresvant, Ricky Bell and Michael Bivins were still together.
"First of all we'd like to thank our Lord and Savior Jesus Christ right now. Y'all can't understand 30 plus years in the music industry that will chew you up and spit you out," he said. "All six of us are standing on this stage right now. What an amazing thing."
Johnny Gill echoed similar sentiments, and cited Hebrew 13:5 and Isaiah 54:17, among other Bible verses in his speech.
"I just want to say all praises go to God because without Him we wouldn't be standing in front of you. We've been through some ups and we've been through some downs, but God said 'He will never leave you and He will never forsake you,'" Gill said when accepting the honors with his five group members. "So, some of you know what I'm talking about when He says, 'No weapon formed against us shall prosper.' That's why we're standing today and we give all praises to Him."
Group member Ricky Bell insists that the group's ability to make it through the years is a true testament of their faith.
"This is what faith looks like y'all. Being in New Edition is a continuous roller coaster ride," he said. "We go through a lot of ups, we go through a lot of downs, but His grace continues to be sufficient for us. He always does for us what we can't find the strength to do for ourselves, so I just want to give God all the praise."