5 places that celebrated Thanksgiving before Plymouth colony
Texas – 1598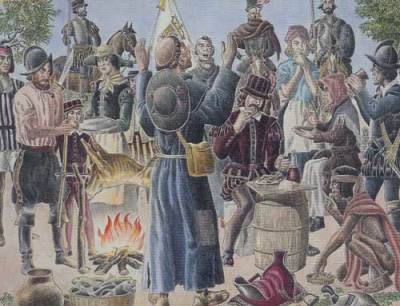 Twenty-three years before the Pilgrims and Native Americans celebrated Thanksgiving in Massachusetts, the Conquistadors held a ceremony featuring the giving of thanks in what is now Texas.
Spanish explorer Juan de Onate and hundreds of colonists worshiped and held a feast at San Eliazario on April 30, 1598, in honor of their safe passage through treacherous terrain, with natives being presented for the festivities.
"We built a great bonfire and roasted the meat and fish, and then all sat down to a repast the like of which we had never enjoyed before," recounted one expedition member.
"We were happy that our trials were over; as happy as were the passengers in the Ark when they saw the dove returning with the olive branch in his beak, bringing tidings that the deluge had subsided."