5 Things to Know About the Paige Patterson Controversy
What Supporters Are Saying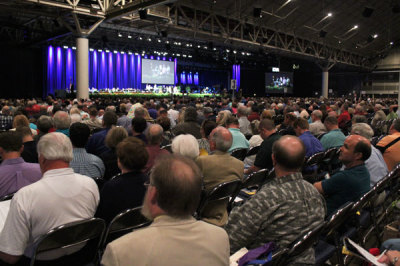 Supporters of Patterson see this episode as a witch hunt of sorts and that efforts to remove him amount to an attack on a good man whom God has used to advance the Gospel around the world.
In an SBC Today article last week, Samuel L. Schmidt, pastor of Edgewood Baptist Church in Nicholasville, Kentucky, appealed to SWBTS trustees to stand by Patterson and criticized the social media frenzy. He forwarded his letter to the vice presidents and deans of the seminary and to the current president of the Southern Baptist Convention, Steve Gaines, pastor of Bellevue Baptist Church in Memphis, Tennessee.
"Should I be surprised Paige Patterson is yet again the target of another string of unnecessarily evil attacks? Why wouldn't our common enemy want to destroy Paige Patterson? Satan hates Paige. Satan despises him, and would not be content with anything less than the total destruction of Patterson," Schmidt wrote.
The issue is not abuse, he asserted, but the permanence of marriage. And journalists are in search of the "next big story," with which they can generate online traffic, he argued.
Schmidt added: "This is a coup to forcibly remove Dr. Patterson from his position at Southwestern Baptist Theological Seminary by discrediting his ministry, from outside sources who are now putting pressure on you, as trustees ... due to decades old vendettas and other personal reasons."
The letter has become a petition, launched on May 5, called "The Right Thing for the Southern Baptist Convention and Paige Patterson" and has gained over 300 signatures.
Similarly, Brad Reynolds, vice president for academic affairs and professor of Christian studies at Truett McConnell University, opined that with regard to the present swirl around Patterson, there "are some in this controversy who have deservedly earned a reputation for being dirt diggers."
"For those of us familiar with the SBC, we have come to expect such behavior from them," he said, predicting Patterson would handle this with grace as he has with previous controversies. 
A woman named Angie Brock claimed on a Twitter thread about the two black eyes incident that she was the one being physically abused and defended Patterson, explaining that he never suggested that she stay in an abusive relationship.
"What he did was bring in the authorities, remove my violent husband and encourage me in the Word. Not recommending divorce does not mean approval of abuse," she said.
The Christian Post reached out to Brock for clarification and further comment but has not received a response.
Patterson issued a statement on April 29 insisting that he has never been abusive to any woman nor condoned abuse of any kind. He also said he has never recommended divorce — "How could I as a minister of the Gospel? The Bible makes clear the way in which God views divorce" — and that he has on a few occasions helped women leave their abusive husbands, including in one instance where his life was threatened during his time as a pastor in New Orleans.
He subsequently told The Washington Post on May 4 that "allegations have been given on me all my life," said he was being falsely accused, and could not "apologize for what I didn't do wrong." 
On May 10, Patterson issued an apology, saying: "I wish to apologize to every woman who has been wounded by anything I have said that was inappropriate or that lacked clarity. We live in a world of hurt and sorrow, and the last thing that I need to do is add to anyone's heartache. Please forgive the failure to be as thoughtful and careful in my extemporaneous expression as I should have been."