5 Wild Moments From Super Bowl LI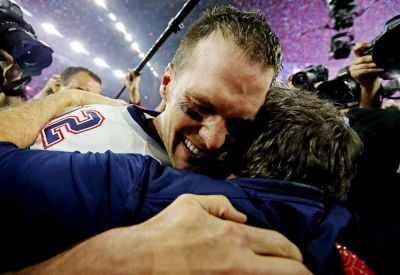 With Super Bowl LI officially in the history books, the game will be remembered for not only solidifying the legacy of the New England Patriots' four-time Super Bowl MVP Award-winning quarterback Tom Brady but also for the crazy and unexpected things that occurred on and off the gridiron.
Historic comeback and first overtime in Super Bowl history
After a scoreless first quarter, the Atlanta Falcons jumped out to a 21-0 lead toward the end of the second quarter and extended the lead to 28-3 in the middle of the third quarter after a Matt Ryan touchdown pass to running back Tevin Coleman.
Being down by at least three scores with just over eight minutes remaining in the third quarter, things really began to look bleak for the Patriots' hope of bringing a fifth Vince Lombardi Trophy to Foxborough.
But after a touchdown run by running back James White with two minutes left in the third quarter and a 33-yard Stephen Gostkowski field goal with under 10 minutes left in the fourth quarter, the Patriots cut the deficit just 16 points (two touchdowns and two, two-point conversions).
Brady and the Patriots managed score two more touchdowns and complete the needed two, two-point conversions to tie the game with 57 seconds left in regulation and forced the first overtime in Super Bowl history.
In overtime, the Patriots won the coin toss and chose to receive, giving them the sudden-death advantage should they score a touchdown, which is exactly what they did.
After beginning the drive on the 25-yard line, Brady led an 8-play, 75-yard drive that was capped off with a 1-yard White touchdown run to give the Patriots the 34-28 victory.
Prior to the Patriots victory, no team had even won the Super Bowl after trailing by more than 10 points, meaning that the Patriots' 25-point comeback was the largest comeback in Super Bowl history.