5 Wild Moments From Super Bowl LI
Stain on Terry Bradshaw's shirt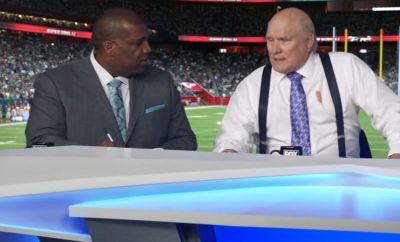 Many viewers of the Super Bowl were quick to notice that there was a glaringly obvious red stain on the shirt of FOX NFL commentator and Pro Football Hall of Famer Terry Bradshaw when he and colleague Curt Menefee were doing an on-air promo for the Super Bowl halftime performance starring Lady Gaga.
Fans and critics on social media were quick to comment on the stain and the trending hashtag #BradhawStain was quickly launched on Twitter. Fans wondered what the stain was from and if Bradshaw and his producers somehow missed the stain on his shirt.
However, it quickly became obvious as to why the stain was on his shirt after Bradshaw and his stained shirt appeared in a Super Bowl commercial advertising Tide laundry detergent.
The trending hashtag on Twitter even played right into the commercial's plot, as the commercial shows Bradshaw rushing off set to change to fix the stain and being told that his stain is "trending."
In the commercial, Bradshaw raced out of the stadium in a golf cart. After taking off on the highway, Bradshaw crashes onto a man's yard. The man lets Bradshaw come inside and wash his shirt and pants using Tide.
To answer the biggest question people had about the stain, the commercial explains that the stain came from "barbecue sauce."