5 Wild Moments From Super Bowl LI
Julian Edelman's crazy catch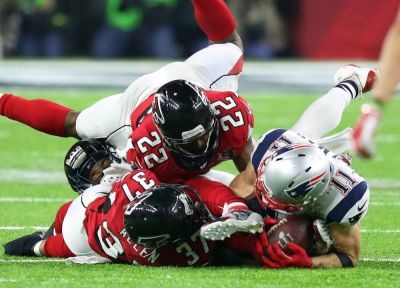 With the Patriots down by eight points with 2:28 left in the fourth quarter and the ball on their own 36-yard line, Brady attempted to throw a pass to his leading receiver Julian Edelman.
Edelman was running a streak route up the middle of the field and Brady's pass was deflected upward into the air by Falcons cornerback Robert Alford.
With the ball having been batted up in the air, four players — three Falcons and Edelman — flocked to the ball to try and make the catch. Although Edelman was outnumbered in the situation, he was able to maintain focus to corral the football as the it bounced off a defender's leg. Additionally, Edelman maintained focus to re-corral the ball after it jiggled loose in the air when he hit the ground. Edelman was able to snag the loose ball and hold on to it for a completed 23-yard reception that put the Patriots in Falcons' territory.
"If we didn't have [the catch], we wouldn't be where we are," Patriots tackle Nate Solder said after the game. "That was a crazy catch by Edelman. In real time you couldn't even tell what happened, but when you saw the replay, it was unbelievable. It kind of rolled our way today."